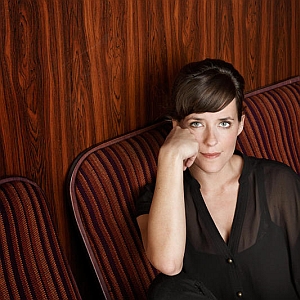 Waschhaus, Potsdam, Germany
19th January 2017
Reading Tour Sarah Kuttner "180° Meer"

SARAH KUTTNER is a Berlin based television presenter, author and columnist. She is the daughter of the radio presenter JÜRGEN KUTTNER. She is well known for her VIVA and EUROVISION SONG CONTEST moderation and her own TV-shows. The style of her shows like BAMBULE or KUTTER PLUS ZWEI is very unique. The first book 'Mängelexemplar' was published in 2009. You might have recognized that the film industry produced a movie as well in 2016. The second novel 'Wachstumsschmerz' came out in 2011. '180° Meer' is the third one and has the topic of making vacation from oneself.
SARAH will read (in German) from this last book in different little cities:

Fr. 07.10.16 20:00 Kleinmachnow, Kammerspiele
Mo. 17.10.16 20:00 A-Wien, Rabenhoftheater
Di. 25.10.16 20:00 Magdeburg, Moritzhof
Mi. 26.10.16 20:00 Jena, F-Haus
Do. 27.10.16 20:00 Leipzig, Werk 2
Mo. 07.11.16 20:00 Rostock, Audimax
Di. 08.11.16 20:00 Greifswald, Kaisersaal
Sa. 12.11.16 20:00 Münster, Aula am Aasee
So. 13.11.16 20:00 Essen, Zeche Carl
Sa. 19.11.16 20:00 Oldenburg, Kulturzentrum PFL
So. 20.11.16 18:00 Lüneburg, Kulturforum
Mi. 18.01.17 20:00 Braunschweig, Brunsviga
Do. 19.01.17 20:00 Potsdam, Waschhaus
So. 05.02.17 20:00 München, Volkstheater
Mo. 06.02.17 20:00 Nürnberg, Hirsch
A good chance spending an interesting winter evening.
Additional concert Info

Doors: tba
Start: 8:00pm
Tickets: will be available for 18.10 euros via
http://www.kulturbotschafter-events.de/tickets/
Info:
http://www.skm-berlin.com/moderatoren/sarah-kuttner.html
Picture by Marcus Höhn