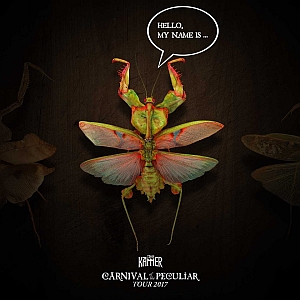 Die KAMMER is a purely acoustic band consisting of eight members. The standard line-up of this extraordinary "alternative orchestra" is made up by vocals in several parts which are accompanied by two guitars, cello, violin, viola, tuba, bass and drums. In addition to that, numerous unusual instruments like mandolin, zither, street organ, bouzouki, glockenspiel, melodica and rare percussion instruments are being used. This exceptional outfit covers a wide range of music - from straightforward and catchy acoustic rock/ pop/ folk songs to whimsical, playful, bizarre circus like small work of arts as well as deeply moving melancholy ballads.
The English lyrics often tell small, mostly morbid stories or they philosophise about death, life, and all the rest of it. The band was founded at the end of 2011 by singer Marcus Testory (Chamber, Highlander TV show, and others) and guitarist Matthias Ambré (ASP, Umbra et Imago, and others). Die KAMMER divide their creative periods by "Seasons", each of which follows a certain theme.
"Carnival of the Peculiar" Tour 2017

For the second time during the current Season III - 'Solace in Insanity', die KAMMER is touring Germany and Austria. The band's live concerts are always a special experience, thanks to line up that is always worth seeing, but also because they are always conducted in a highly professional manner by the experienced musicians. Intoxicating hand-made music - truly "live"! Check out
https://www.facebook.com/diekammer
for updates.
Die KAMMER: Carnival of the Peculiar - Tour 2017 with special guest Pauline Paris

11.01.2017 - Bonn, Harmonie
12.01.2017 - Hanover, Lux
13.01.2017 - Bochum, Rockpalast
14.01.2017 - Frankfurt, Das Bett
18.01.2017 - Vienna, Reigen
19.01.2017 - Munich, Backstage
20.01.2017 - Kufstein, KuFa
21.01.2017 - Dresden, Puschkin