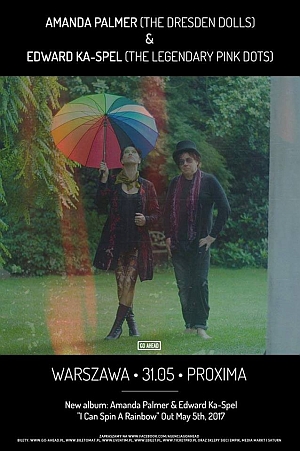 Proxima Club, Warsaw, Poland
31st May 2017
Amanda Palmer & Edward Ka-Spel

Fantastic multi-instrumentalist and performer Amanda Palmer will perform one show in Poland with Edward Ka-Spel (The Legendary Pink Dots). The whole concert tour is dedicated to promotion of the new upcoming collaboration album 'I Can Spin a Rainbow', which will be released in the beginning of May.
Amanda Palmer is well-known as lead singer and songwriter of the dark-cabaret band THE DRESDEN DOLLS. She started her solo "swimming" in the music sea with three solo concerts in 2007 and in 2008, she released the full-length album 'Who Killed Amanda Palmer' as well as album with photographs by different photographers and stories by Neil Gaiman. The eccentric musician made her career by performing with different musicians such as Jason Webley (also as duo EVELYN EVELYN), cellist Zoe Keating, THE GRAND THEFT ORCHESTRA, VOLTAIRE, APOPTYGMA BERZERK and her father Jack Palmer, she raised funds on Kickstarter and released her next album. As an author, she wrote a book - memoir 'The Art of Asking' which became a bestseller on New York Times bestsellers lists. In addition, Amanda has hit TED Talk with her prominent appearance with 'The Art of Asking' and her speech was seen by over 10 million people. In the year 2015 she started her music campaign on the crowdfunding platform Patreon. Raised funds helped her to release a tribute to David Bowie, 'Strung Out In Heaven: A Bowie String Quartet Tribute'. Amanda also is the wife of British writer Neil Gaiman, they recorded an LP called 'An Evening With Neil Gaiman & Amanda Palmer' together (2013).
Edward Ka-Spel is an English musician and leader of experimental rock band THE LEGENDARY PINK DOTS which was founded in early 80's. Its music was an inspiration for Amanda Palmer. Beside the main band, Edward has made numerous side projects such as THE TEAR GARDEN, or MIMIR. His solo albums hold a wide range of music styles: from abstract electronic to pop songs.
Additional Information

Doors: 19:00
Starts: 20:00
Location: Club Proxima, ul. Żwirki i Wigury, 99a, Warsaw, Poland
Tickets:
www.go-ahead.pl
,
www.biletomat.pl
,
www.eventim.pl
,
www.ebilet.pl
,
www.ticketpro.pl
Price: 79 PLN pre-sale / 90 PLN on entrance
Info:
http://www.go-ahead.pl/pl/koncerty,koncert,1335,AMANDA-PALMER-EDWARD-KA-SPEL-Warszawa-Proxima.html