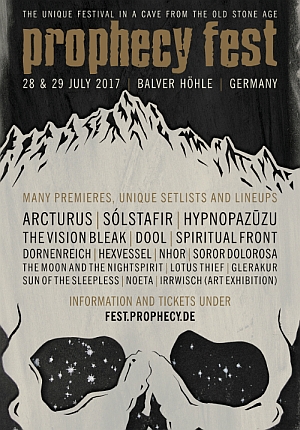 Balver Höhle (Cave Balve), Balve, Germany
28th to 29th July 2017
Prophecy Fest 2017 with Sólstafir, The Vision Bleak, Spiritual Front, Dornenreich, The Moon and the Nightspirit, Lotus Thief and more special performances

Prophecy Fest takes place in a natural cave from Old Stone Age - Balver Höhle. According to Germanic Saga, the blacksmith Wieland had his workshop in the cave. Balve, Germany, is situated between Dortmund, Cologne, Frankfurt and Hannover. The cave is Europe's biggest cultural cave.
Line-up

Arcturus
: The epitome of avant-garde metal, will perform at Prophecy Fest.
Sólstafir
: Will illuminate the cave of Balve!
Hypnopazūzu
: The new band of David Tibet (Current 93) and Youth (Killing Joke) will give their very first concert in Germany!
The Vision Bleak
: Will perform with the Shadow Philharmonics for the first time since 2006 again. Schwadorf and Konstanz are back at Prophecy Fest 2017 for a special performance with a classical ensemble of strings, percussion and vocals!
Dornenreich
: Will grace the cave with a special history acoustic concert! The set list will contain songs from all their albums as well as the 'Mein Flügelschlag' demo tape.
Dool
: The band one of the most exciting signings at Prophecy Productions in recent years. Ryanne van Dorst and her pack will prepare a special set with five additional musicians and singers exclusively for this event!
Hexvessel
: Prepare an extended performance for the Balve audience with implemented acoustic set.
Spiritual Front
: Will play a special "Armageddon Gigolo" set for Prophecy Fest 2017!
Sun Of The Sleepless
: The black metal/ experimental side project of Schwadorf (Empyrium, The Vision Bleak), will play its second show ever at Prophecy Fest 2017! As a side note, the first concert was at the first small Prophecy label festival in 1999.
The Moon And The Nightspirit
: Play a one-time show at Prophecy Fest! Their line-up will be extended by a pianist/ harpist and a flutist and their set will include songs never played before.
Lotus Thief
: The band will be in Europe for the first time and promoters let them set ancient words to song in the cave of Balve.
Soror Dolorosa
: The band is performing 'Severance' in its entirety for the first time & presenting their the new album 'Apollo'.
GlerAkur
: The band surprised the audience and blew them away with their performance at Prophecy Fest 2016. It was an easy decision for to invite them again.
NOÊTA
: Play their first concert outside Scandinavia at this year's Prophecy Fest!
Nhor
: World premiere performance at this year's Prophecy Fest!
Irrwisch
: Art director and exhibition. After the amazing Austrian graphic designer Irrwisch did make the artwork for Lotus Thief's 'Gramarye', he was the festival's choice for the art director function at Prophecy Fest 2017.
Running order

The running order will be published as soon as it is finished. Unlike other festivals, Prophecy Fest will not start with the most "unknown" artist and end with the "headliners". To the label, they are all headliners and were chosen because they expect an amazing performance from them. Therefore, all artists will have the playing time they need for their performance, and the running order will reflect what the label considers the optimum in terms of dramaturgy and suspension.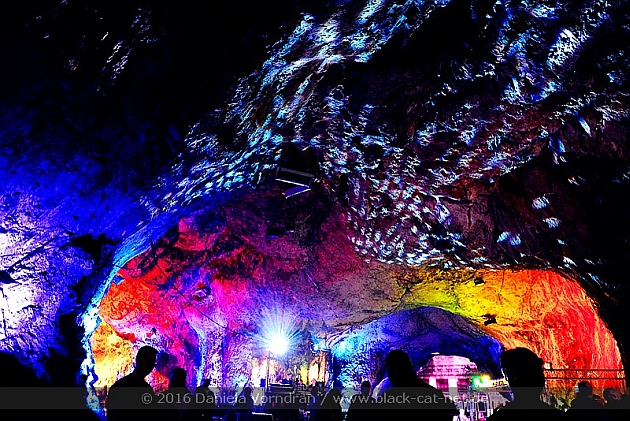 Further Information

Tickets

Ticket price is 86.90 € per ticket. Ticket includes a hardcover program book with festival sampler CD. Tickets are limited. Order tickets: http://live.weltnetz.lu/en/titel/prophecy-fest-28-07-29-07-2017-balve/
Handicapped people

There is a special platform for handicapped people. The festival's helping hands will assist you.
Helping Hands

An event like Prophecy Fest takes a lot of work, so for a seamless organization they offer you to participate. This covers different areas such as additional security, backstage support, overseeing the entrance, acting as stage hands and so on.
Please consider the following before you apply:
- You must be of mature age (18 years)
- You have free entry and camping
- You get a Helping hands shirt, a hardcover program book, Prophecy Club membership for 2018
- You take responsibility instead of loafing around
- You might miss your favourite bands' concerts
Please send your applications to post ((@)) spkr (dot) media
Accommodation

Camping site Balver Höhle: You can set up your tent close to Balver Höhle. This area has only the most basic installations, i.e. toilets and water taps. The charge per tent is 15 €, which are collected by the Festspielverein (the managers of the cave). The site is open from Thursday afternoon to Sunday noon. It is on the right hand side in front of the cave (standing on the parking lot, you take the path to the left). You may bring your own food and beverages there, but please clean up after you for the sake of the environment and our good relation to the town of Balve.
Guest houses/ small hotels in and near Balve: http://www.hoennetal.de/hoennetal/ukv/
Vacation park Sorpesee: Sorpesee (8 km from Balve) is a vacation park with many accommodation facilities such as a camping site, wood houses, troll hotels, etc. http://www.sorpesee.de/uebernachten-tagen.html
How to get to Balve

The city of Balve is situated in the Sauerland, 50km southeast of the Ruhr district. Address is: Balver Höhle, Helle 2, 58802 Balve, Germany
The closest airports are Dortmund, Köln/Bonn, Münster/Osnabrück, Frankfurt/Main, Frankfurt/Hahn, Paderborn/Lippstadt, Düsseldorf, Weeze/Niederrhein, Kassel. From there, you can travel by rental car or by train. Train connections go directly to Balve. Check Deutsche Bahn for travel possibilities.
Parking

Balver Höhle (as well as the campingsite) has its own parking lot. The fee is 3 € for one car. The lot is open from Thursday afternoon to Sunday noon.
Food, drinks and bags

Please note that is not allowed to bring your own food and drinks to the festival area. All bags need to be checked thoroughly, and the more bags, the slower people will get into the cave.
Photos and filming

You are allowed to bring your camera and take pictures, but using flash light is prohibited. Please also refrain from filming. We have a film crew on site capturing the entire event. Be so kind as to give the professional photographers a chances to take their pictures.
Program book

All visitors will receive a free program book even if they arrive at the festival later.
Merchandise

There is no need to panic. We have got plenty of merchandise with us. There are even still copies of Empyrium's 'The Mill' vinyl that we will also sell again. However, we can only allow a maximum of two copies per customer.
Info

http://en.prophecy.de/prophecy-fest/