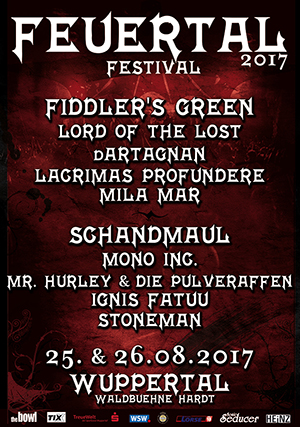 Waldbühne Hardt, Wuppertal, Germany
25th & 26th August 2017
Feuertal Festival 2017 with Fiddler's Green, Lord of the Lost, Lacrimas Profundere, Schandmaul, Mono Inc., and many more

Family vibes, great costumes, a very special atmosphere, a stunning natural setting, or simply cool - this is just a small selection of attributes characterizing the biggest and most traditional festival that has taken place in Wuppertal, Germany, in the last 13 years. Since its premiere in 2002, the FEUERTAL has managed to reach cult status not only within the scene, but also far beyond the borders of Wuppertal. A lot of things have to be done right to be considered "cult" and at the Feuertal festival everything is just right: Starting with the line-up, which always presents a good mixture of top acts of the scene next to promising newcomers, over to the popular medieval market and the camping area at the open-air swimming pool "Freibad Mirke" which contributes greatly to Feuertal's feel of a family meeting. That is how it has been all the years till now and this is exactly how it will be this year once again!
The main contributors to this event are the acts which will fill the Waldbühne Hardt with their sound on the last weekend of August. The first festival day will be under the banner of FIDDLER'S GREEN, LORD OF THE LOST, DARTAGNAN, LACRIMAS PROFUNDERE, and MILA MAR. On the second day, the FEUERTAL fans will rock out with SCHANDMAUL, MONO INC., MR.HURLEY & DIE PULVERAFFEN, IGNIS FATUU, and STONEMAN.
Day 1: August 25

MILA MAR will get the happening started on Friday. After 11 years, the fantastic act got back together in 2015 and their fans are still waiting for a new piece of work as heir last record was out in 2003. Still, MILA MAR have appeared live on stage in the meantime and now, vocalist Anke Hachfeld and her band mates will hit the German stages once again. Their gig at FEUERTAL festival will definitely be a highlight. / Band Info: http://www.milamar.de/ / https://www.facebook.com/MilaMarMusik?ref=hl
It's going to get more Metal-ish with the second act of the day, when Goth rockers LACRIMAS PROFUNDERE will get their instruments to work. With more than 100.000 sold albums and 23 years of band history, LACRIMAS are well known and widely celebrated in the international Gothic and Metal scene. Last year, their concept album 'Hope Is Here' entered the German charts at position 30 and has strengthened their reputation for being one of the most melodic, melancholic and at the same time most rocking bands in the rock circus. / Band Info: http://www.lacrimas.com/ / https://www.facebook.com/lacrimasprofundereofficial/
The next act in the line-up called DARTAGNAN is not yet that established but extremely engaged. In spring 2016 the three musketeers Ben Metzner (vocals, bagpipe, flutes), Tim Bernard (vocals, guitar), and Felix Fischer (vocals, guitar, bass) released their debut album 'Seit an Seit' (transl. 'Side to Side') via Major Sony and jumped right in into the top ten of the charts. Their folk rock inspires both, members of the dark scene as well as the mainstream. DARTAGNAN are on their way to the top and most certainly they will be more often and also further up in the line-up at the Feuertal Festival. / Band Info: http://www.dartagnan.de/home/ / https://www.facebook.com/dartagnan.de/
Hard and dark - these two pillars made LORD OF THE LOST become one of the best-known and successful acts in the international scene within less than ten years. Already in 2014 the visitors of the Feuertal Festival were convinced by LOTL's terrific show, the band's boundless joy of playing music and unbridled stage-madness, and their sympathetic closeness to their fans. The five guys from Hamburg transform every single performance into a grand happening of sweat, sex and Rock'n'Roll. From Berlin via Helsinki to Moscow, the quintet has played every club into the ground. With their great rock show LOTL deliver a kind of a borderline experience – desirable side effect: high potential for addiction! Band Info: http://lordofthelost.de/ / https://www.facebook.com/lordofthelost/
Of course the top act of the Friday evening is also extremely addictive: FIDDLER'S GREEN are going to honour the Feuertal Festival for the sixth time in 2017. The Irish Speedfolk rockers from Erlangen have become something like the darlings of the fan base by now. Since 1990 the band has played more than 1.700 concerts. Their blend of folk, ska, punk, reggae, and rock makes sure of spreading pure party mood and even brought them at the legendary Metal Festival in Wacken and the world-famous Montreux Jazz festival. 'Devil's Dozen', released in October 2016, is the band's 13th studio album. Band Info: http://www.fiddlers.de/de/ / https://www.facebook.com/Speedfolk/
Day 2: August 26

The second day at the Waldbühne begins with two premieres at the Feuertal: First, the rockers STONEMAN from Switzerland will have the honour of raising the temperature of the audience with their dark and addictive lyrics in German and a catchy mix of bittersweet melodies and chrome-bright metal riffs. Band Info: http://stonemanmusic.ch/ / https://www.facebook.com/stonemanmusic/
Then, IGNIS FATUU will take over and prove to their visitors that their version of Medieval Metal represents a renaissance of the genre. The guys from Nuremburg have been in the business since 2004 and last year their fourth studio album 'Meisterstich' came out, their first pure concept album. You can be very excited about the live performance. Band Info: http://www.ignisfatuu.de/ / https://www.facebook.com/ignisfatuu/
The third band of the day, MR. HURLEY & DIE PULVERAFFEN, has already celebrated their festival debut back in 2015. Seeing the audience's applause for the band as a mood barometer, one can say that the act completed their gig with the highest honour: summa cum "louder"! Their Pirate-Folk, or "Grog'n'Roll", or "Aggroshanty" fits the Feuertal Festival just like the Reeperbahn goes hand in hand with St. Pauli. Ultimately, it does not matter how one wants to label the music of the harbour riff-raff from the "Caribbean Osnabrück". When songs such as 'Schrumpfkopf im Rumtopf' (transl. "Shrunken Head in the Rum Pot") are put on, it's time to shake a peg-leg and drain the rum cup! Band Info: http://www.pulveraffen.de / https://www.facebook.com/pulveraffen/
In the evening, MONO INC. will play yet another Feuertal show. Since their founding in 2000, the sound of the four alternative dark rockers from Hamburg has stood for great melodies, colossal orchestrations, and moving lyrics. This mixture keeps on bringing their albums to the top ten of the German charts. In 2016, they presented their first live album titled 'Mono Inc. - Live', which proved impressively how atmospheric their concerts are. As always, the band will perform in dark costumes with suitable makeup and spread some great vibes. Band Info: http://www.mono-inc.com/ / https://www.facebook.com/monoinc/
Similar to FIDDLER'S GREEN, the headliner of the day before, SCHANDMAUL also have quite a few Feuertal gigs under their belt. What is more, SCHANDMAUL have been guests at Feuertal's premiere back in 2003 and the band has already headlined four times ever since. By now, SCHANDMAUL have become an integral part of the festival's history. Next to SUBWAY TO SALLY, SCHANDMAUL is without a doubt a poster band of the Feuertal Festival. Their concerts have been a highlight for the countless fans coming from the North Sea to the Mediterranean. Since the release of their 2004 album 'Wie Pech & Schwefel' their albums have been in the top ten of the charts and their latest piece 'Leuchtfeuer' directly reached Number 1. SCHANDMAUL have long been more than "just" a medieval folk rock band. Besides song books, the band members also publish radio plays and contribute soundtracks to film and television productions. So, considering all their activities it's all the more wonderful that the band finds time to perform at the Feuertal and to pay tribute to those who made their unrivalled rise possible: their fans. SCHANDMAUL and Feuertal - a story of success that began in 2003 and hopefully will continue! Band Info: http://www.schandmaul.de/ / https://www.facebook.com/Schandmaul/
Of course, Eric Fish from SUBWAY TO SALLY cannot be missed at the Feuertal and so the frontman is once again going to host the festival. Since 2003 the atmospheric medieval market has made Feuertal also a must-go for all fans of the Dark Ages. In addition to garments, instruments and other medieval hardware you will also find various food and drink booths there – keyword: mead! Needless to say, that fire-eaters, jogglers, and other artists are going to grace the stage at the medieval market, and finally, we will enjoy the mandatory Feuertal fire show.
Additional Festival Information

Line-up

Day 1 (Aug 25): Fiddler's Green / Lord Of The Lost / dArtagnan / Lacrimas Profundere / Mila Mar
Day 2 (Aug 26): Schandmaul / Mono Inc. / Mr. Hurley & die Pulveraffen / Ignis Fatuu / Stoneman
Doors: 1pm (both days)
Starts: 2pm (both days)
Tickets

Tickets for both days are available for 60€ (plus fees) and day-tickets for 40€ (plus fees)
here
.
Location

Waldbühne Hardt in Wuppertal, Germany
Camping

You may camp for 15€ (plus fees) at the open-air swimming pool "Freibad Mirke" from August 24 at 4pm till August 27 at 2pm.
Festival Website

www.feuertal-festival.de / https://www.facebook.com/FeuertalFestival/
Events on Facebook

Camping: https://www.facebook.com/events/208218439633684/
Festival Day 1: https://www.facebook.com/events/1836617156610590/
Festival Day 2: https://www.facebook.com/events/638543442974032/