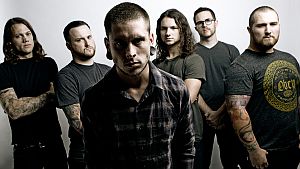 Garage, Saarbrücken, Germany
23rd August 2017
Whitechapel, Aversions Crown, Within the Ruins

Whitechapel is a known part of London, where the unidentified serial killer Jack the Ripper committed his murders. Because of his crimes, the three friends Phil Bozeman, Brandon Cagle and Ben Savage formed their band WHITECHAPEL, with success.
They already released six studio albums. Their first one, 'The Somatic Defilement' released in 2007, is based on Jack the Ripper, in which all of the songs are first-person narratives of the slaughter and rape of prostitutes. Their latest album 'Mark of the Blade', released in 2016, is the first WHITECHAPEL album to feature lead vocalist Phil Bozeman performing clean vocals on an album.
After the successful "Never Say Die!" tour though Europe in November 2016, the American band from Knoxville/Tennessee will come back to Germany. The US-sextet will play two club shows in Germany while their tour where most of the German dates are festivals. Support acts will be AVERSIONS CROWN from Australia and WITHIN THE RUINS from Westfield, Massachusetts.
Additional Concert Info

Doors: 19:00
Start: 19:45
Tickets: 24.85 € plus charges (pre-sale)
HERE
and via
Ticketmaster
Info: https://garage-sb.de/veranstaltungen/whitechapel/
Facebook Event: https://www.facebook.com/events/1725619874414856/
More on
Whitechapel
,
Aversions Crown
and
Within the Ruins