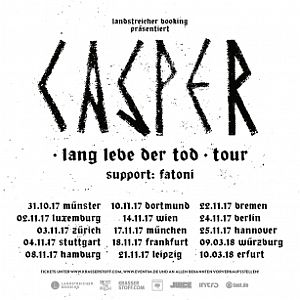 Halle Münsterland, Münster, Germany
31st October 2017
Casper - "Lang Lebe Der Tod" Tour 2017/18 & Special Guest: Fatoni

It was not easy: it is nearly four years ago that the latest CASPER album so far, 'Hinterland', was released. The successor 'Lang lebe der Tod' has been postponed, refined and presumably also cursed. Now, however, it is certain that CASPER has snatched the perhaps most difficult phase in his life from a real major work that is different from his previous one - and still at least as good. A triumph.
The key word of the past few years: fear. Everyone seems to be frightened, and so almost all social and political developments of that time are closely linked to the concept of fear: fear of too many refugees, fear of poverty, fear of digitization, fear of age. Fear of anything and everyone, and not that it will not always be the same as it once was. The new and fourth CASPER album, released on September 1, 2017, is called 'Lang lebe der Tod'. And because the fear of dying is the paramount par excellence, so he makes jokes about the fear right in the title. CASPER also has fear, just like we all. Above all: fear that his music could not be understood well enough or not at all. 'Lang lebe der Tod' should be released already over a year ago. At that time the title song was released as the first single and it was one of the best songs of this career.
CASPER has listened to NINE INCH NAILS, DIE KRUPPS, KMFDM, ALIEN SEX FIEND and the EINSTÜRZENDE NEUBAUTEN. In other phases the hardcore socialized has rediscovered his heart for German punk, the next day he celebrated Drake and Kanye and shortly thereafter the DJ Helena Hauff. In the end 'Lang lebe der Tod' is quite clear Post-genre: The passionate music freak CASPER has always been too open and versatile oriented to restrict himself musically… this time of the open borders is in this respect his time.
With the new album 'Lang lebe der Tod' CASPER is touring Germany, Austria, Luxembourg and Switzerland this autumn.
"Lang lebe der Tod" Tour – Dates
31.10.17 Münster, Halle Münsterland
02.11.17 Luxemburg (LU), Rockhal
03.11.17 Zürich (CH), Samsung Hall
04.11.17 Stuttgart, Schleyerhalle
08.11.17 Hamburg, Sporthalle
10.11.17 Dortmund, Westfalenhalle 1
14.11.17 Vienna (AT), Wiener Stadthalle
17.11.17 Munich, Zenith
18.11.17 Frankfurt, Festhalle
21.11.17 Leipzig, Arena Leipzig
22.11.17 Bremen, ÖVB-Arena
24.11.17 Berlin, Max-Schmeling-Halle
25.11.17 Hanover, Swiss Life Hall
09.03.18 Würzburg, s. Oliver Arena
10.03.18 Erfurt, Messehalle
Additional Concert Info

Doors: 19:00
Starts: 20:00
Tickets: are available from 41.65 € (plus fees)
HERE
, via
TICKETMASTER
and at https://krasserstoff.com/tour/157322
Info: http://kingstar-music.com/shows.php?showDetail=243
Facebook Events: https://www.facebook.com/events/1746496258940878
More on
Casper