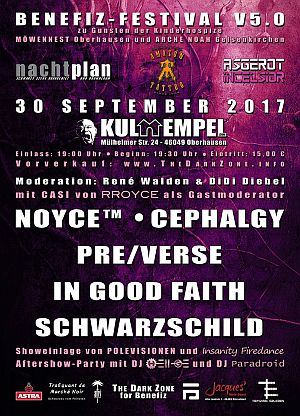 Kulttempel, Oberhausen, Germany
30th September 2017
Benefiz Festival with Noyce™, Chrom, Pre/Verse, In Good Faith and Schwarzschild

It has become a tradition that the benefit festival in favour of the children's hospices "Möwennest Oberhausen" and "Arche Noah Gelsenkirchen" takes place in autumn at the Kulttempel Oberhausen. Once again, now for the fifth time, a number of some, in the gothic scene well- known, bands perform in order to raise money for a good cause.
This year's line-up will delight the Synth- Pop/ -Rock lovers: NOYCE™, CHROM, PRE/VERSE, IN GOOD FAITH and SCHWARZSCHILD
The concerts will be presented by René Walden, DiDI Diebél and Casi of RROYCE as co-host. For those who haven't danced their feet off and still want to party more, there will be an after-show party with the DJs HELL-GE and PARADROID. Another highlight and surprise of the evening will be presented by POLEVISIONEN and INSANITY FIREDANCER. Additionally there will be a tombola - all the proceeds will be also donated to the children's hospices.
The current sponsors who also helped to make this event possible shouldn't be left unnoticed as these are: Amazon Tattoo + Piercing, Kulttempel Oberhausen, Nachtplan, Jacques' Wein- Depot, Astra, Asgerot Incelsior, Tiefgang- erleben, Gothmosis, Trafiquant de Marché Noir - Schwarzes vom Feinsten, AFRI
Of course more sponsors are more than welcome.
Additional Concert Info

Doors: 7:00 pm
Starts: 7:30 pm
Ticket fee: 12€+ Charges (Pre- Sales) and 15€ at the door
Tickets can be bought at https://kulttempel-tickets.de
Info: https://www.facebook.com/Benefiz.Festival.Kulttempel.Oberhausen