Turbinenhalle, Oberhausen, Germany
26th May 2018
New Waves Day with Fields of the Nephilim, The Damned, Chameleons Vox and more

Celebrated one time, already established. The New Waves Day celebrated its outstanding premiere in Oberhausen in 2017 and brought scene heroes like THE MISSION to the stage in front of thousands of fans. On May 26, 2018, the organizers will even top it and present a line-up which will make every fan of the alternative 80s into raptures. Pop & Wave meets Punk and Industrial. Also this year's line-up proves impressively: The New Waves Day is the long-awaited counterweight to the many alternative events, which are dominated by electronic sounds, unholy hit and medieval songs.
The one-day festival thus succeeds in giving the origins of a scene a stage and thus uniting supporters of various musical genres in one place. Fans travel from all over the world to celebrate their heroes and themselves.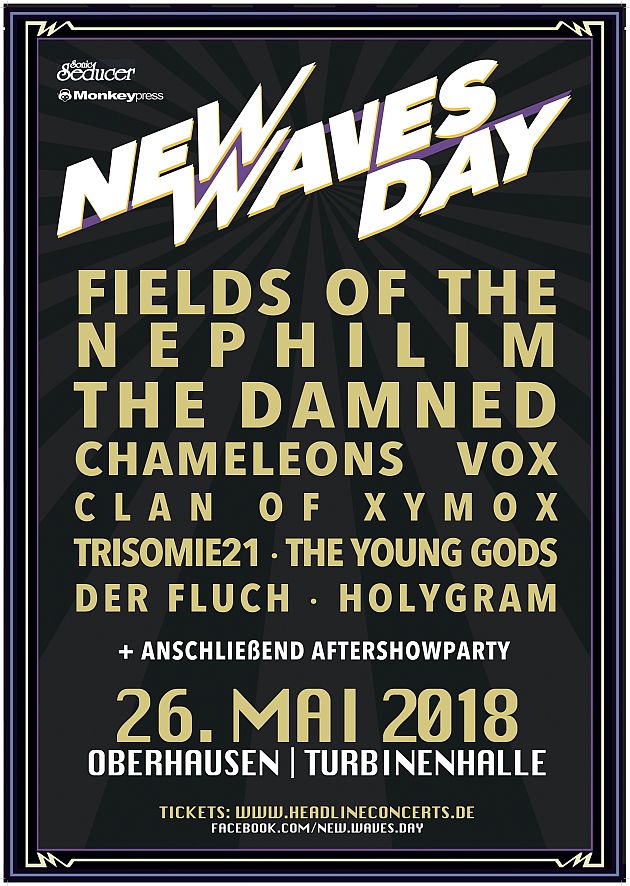 FIELDS OF THE NEPHILIM (UK), the Goth Rock superstars around singer Carl McCoy, have been traveling around the world since 1983 to present immortal hits like 'Moonchild' or 'Psychonaut' in the band's very own apocalyptic sound. The punk rock founding fathers THE DAMNED (UK) released with 'New Rose' in 1976 not only the first punk single of all times, but belonged in the 1980s to the first bands who mixed Punk and Gothic successfully and landed a mega Chart hit with 'Eloise'. CHAMELEONS VOX (UK) are the followers of the legendary post-punks THE CHAMELEONS around original singer Mark Burgess, who will perform songs from the album 'Strange Times' and other classics.
CLAN OF XYMOX (NL), almost active since 1984, the Dutch are considered as one of the most important bands of the Dark Wave scene. TRISOMIE 21 (FR), launched in 1981 as the Cold Wave band, the French soon caused an international sensation with their experimental electro pop and delivered chart hits like 'La Fête Triste' or 'The Last Song', which will also be heard on New Waves Day. THE YOUNG GODS (CH) - active since 1985 - are considered pioneers of industrial rock and are venerated by many famous musicians and their fans.
DER FLUCH (D), founded in 1981 by OHL singer Deutscher W., base their music on a mixture of punk, garage rock and Gothic and are thus a forerunner of the horror punk and created with " Halb Mensch Halb Tier " a scene classic. The quintet HOLYGRAM (D), with its mix of wave and post-punk, has just become a true star in Cologne and opens the evening as the youngest band to illustrate the bridge between the future and the past.
The festival day will be closed with an after-show party where cult scene DJs will spin the records.
All info about the festival, ticket links etc. are available at http://www.new-waves-day.de / https://www.facebook.com/new.waves.day
Tickets:
https://goo.gl/rGqW4h