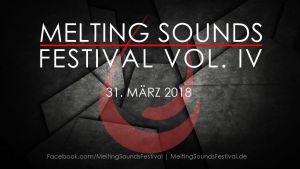 Zeche Carl, Essen, Germany
31st March 2018
Melting Sounds Festival 2018 with Rome, Esben And The Witch, Last Leaf Down, Charles De Goal, Monographic

It's all about passion.
Life is about passion.
Music is about passion.
That's why organizers started to promote Melting Sounds Festival in 2014 after more than 15 years of attending hundreds of concerts and festivals. After listening to thousands of bands, they wanted to give something back to all who share the same passion to music.
So they started to book bands and engage their very best friends to promote an evening with the spirit every concert should have. Melting Sounds understands itself as a non-profit-festival with a direct link to art and music. They support other independent festivals and concerts. That's why you can always find some other promoter at their support zone. Their mission is simple. They follow their passion...
Additional Festival Information

Doors: tba
Starts: 18:00
Ticket fee: 25 euros + Charges (Pre- Sales)
Tickets can be bought at
http://meltingsoundsfestival.de/shop/tagesticket_msf_2018
Facebook event: https://www.facebook.com/events/268046320359387/
Info: http://meltingsoundsfestival.de / https://www.facebook.com/MeltingSoundsFestival