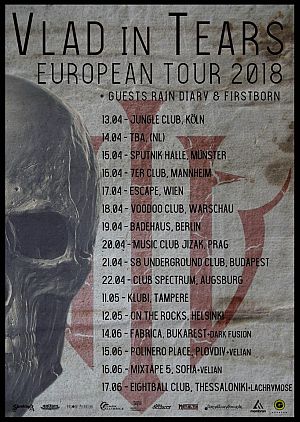 Sputnikhalle, Münster, Germany
15th April 2018
Vlad in Tears - "Souls On Sale Tour - Vlad In Tears and Friends" - Support: Rain Diary, Firstborn

At the end of 2017, Berliners VLAD IN TEARS released the darkest and purest album of their career: 'Souls On Sale'. The band around vocalist Kris Vlad takes a huge step forward with their sixth long-player and makes a point landing. Hard riffs, brilliant lyrics and driving beats have been blended to perfection to serve their fans - and those who want to be - the perfect album.
RAIN DIARY is a Finnish Darkwave / Dark Rock band that plays urban Gothic Pop tunes. The band bears characteristic sound that hails to the golden era of Finnish dark music scene: Charismatic vocals laid on melancholic musical texture. That said, RAIN DIARY brings a whole another dimension into the mood and colour that has been labelled to the most Finnish bands: Drumming electronics, yet fragile interpretation, loud and restless city noises and the silence of the ever green forests. RAIN DIARY sounds nothing but itself.
It is time for revolt. We will not fit into the mould that they made for us. We are the firstborn and we will make our own destiny… Alternative rock band FIRSTBORN are claiming their own path with their self-titled debut album. Hailing from Borås in the Southern regions of Sweden, music was Marcus Carlzon's, Joachim Ragnarsson's and Simon Näsström's best chance of escape. Whenever possible, they would work on their songs so that FIRSTBORN could shout their message into the world.
Now those three bands are touring together. Don't miss your chance and get your ticket now!
Additional Concert Info

Doors: 19:00
Start: 20:00
Tickets: 16.50 euros plus charges (pre-sale) via https://www.metaltix.com or 19.50 euros at the door
Info Bands: https://www.facebook.com/vladintearsofficial / https://www.facebook.com/RainDiary / https://www.facebook.com/firstbornofficial
Info: http://www.sputnikhalle.de/index.php/naechste-monate/1102-so-15-04-2018-souls-on-sale-tour-vlad-in-tears-and-friends
More on
Vlad in Tears
,
Rain Diary
and
Firstborn