Leipzig, Germany
18th to 21st May 2018
27th Wave-Gotik-Treffen with All Gone Dead, Black Line, Die Kammer, Dive, Elegant Machinery, Front Line Assembly, Merciful Nuns, Mr. Kitty, Rome, Seigmen, Solitary Experiments, The Jesus And Mary Chain, Trisomie 21, Vomito Negro, Zeromancer, [:SITD:] - and many more

Twenty-six years ago, two Gothic people from Leipzig had an unusual idea: They didn't want to create yet another dark music festival but rather a supra-regional gathering of like-minded fellows for relaxed meeting, chatting and celebrating. When the 1st Wave-Gotik-Treffen took place in 1992 at the edge of Leipzig with about 2,000 visitors and just a handful of bands, it is unlikely that anyone imagined that within a few years the WGT would become the largest meeting of Gothic people in the world, taking possession of a whole city every year at Whitsun. Now, the WGT exists more than a quarter-century… from May 18th to 21st, again more than 20,000 Gothics from all over the world are expected to come together again in Leipzig to celebrate Wave-Gotik-Treffen as THE international gathering of the dark family.
All over the city, there will be more than 200 bands performing, projects and single artists covering the whole wide range of Gothic music: from Electro-Pop to Goth-Metal, from EBM to Neofolk, from medieval music to Post Punk. Apart from famous bands of the scene, you are invited for new discoveries with several less-known real underground bands or artists from the edge of the Gothic music universe. The concerts and events take place at more than 50 venues spread throughout Leipzig, for instance in the vaults of the Moritzbastei, in the splendid neo-antique cupola hall of the Volkspalast, and in the historical public bath Stadtbad, as well as in large concert halls. The WGT program will also include beautiful classical music again, such as operas, chamber music, choral and organ concerts.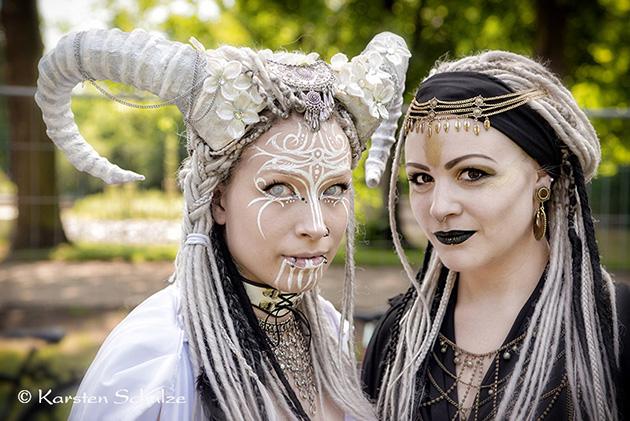 From its beginning the Wave-Gotik-Treffen has been much more than a music festival: its guests may step back to the romantic atmosphere of ancient times at the medieval market place at the Pagan Village (Heidnisches Dorf). We will present authors reading and unusual theatre, cinematic performances will take place. People in historic clothing will gather for a Victorian Picnic in a park. For four days a large hall at the agra-Messepark will be transformed into the biggest Gothic-wares marketplace in the world. In numerous clubs DJs from all over the world will invite you to dance until dawn. There will also be a large fetish party where entrance is only possible by following a strict voluptuous dress code. A stroll through the winding passages of city centre of Leipzig with its historical buildings of the Renaissance, Baroque and Jugendstil (Art Nouveau) eras is especially worthwhile for art and culture lovers: the entrance to several of Leipzig's museums is free for WGT-guests.
Cheap and entertaining accommodation is available at the huge Treffen camping ground. To enter, you need a special ticket (called Obsorgekarte). Public transport in the city is free for all WGT-guests from Friday morning until noontime Tuesday. The inhabitants of Leipzig have become familiar with the Treffen over the last two decades – there are no longer any prejudices and the Gothic guests are very welcome here. The most fascinating aspect of the Wave-Gotik-Treffen is surely its unique magic atmosphere that covers the whole city. Gothics from all over the world celebrate their gathering in a peacefully relaxed manner, turning Leipzig into a diverse wave of black. Once a year about twenty thousand Gothics come home: to the Wave-Gotik-Treffen
Bands

Currently there are 224 artists confirmed (per 13th May 2018):
3Teeth (USA) - A Projection (S) - Actors (CDN) - Aeon Rings (USA) - Aeverium (D) - Akalotz (D) - All Gone Dead (USA) exclusive European reunion show in 2018 - Anna Gudny Gudmundsdotter (IS) - Anneke Van Giersbergen (NL) - Arcana (S) - Argine (I) - Ash Code (I) - Ataraxia (I) - Author & Punisher (USA) - Autobahn (GB) - Axel Thielmann (D) - Beinhaus (D) - Bettina Bormann (D) - Black Light Ascension (GB) - Black Line (GB/USA) - Blanck Mass (GB) - Bootblacks (USA) - Boy Harsher (USA) - Buzz Kull (AUS) - Camerata Lipsiensis (D) - Cantus Lunaris (D) - Carmen Stefanescu (RO) - Carolin Masur (D) - Carsten Klatte (D) - Cellar Darling (CH) - Centhron (D) - Cesair (NL) - Chambre D'écoute (D) - Chameleons Vox (GB) - Chor Der Oper Leipzig (D) - Christian Von Aster (D) - Claire Gascoin (F) - Claudia Gräf (D) - Clemens-Peter Wachenschwanz (D) - Confrontational (GB) - Crisis (GB) - Crying Vessel (CH) - Dageist (F) - Daniel Ochoa (D) - De/Vision (D) - Dead Leaf Echo (USA) - Detachments (GB) - Die Kammer (D) - Diorama (D) - Dive (B) - Donner und Doria (D) - Dool (NL) - Drifter (S) - E-Craft (D) - Eden Weint Im Grab (D) - Einar Selvik (N) - Eivør (FO) - Elegant Machinery (S) - Emily Hoppe (D) - Eminenz (D) - Ensemble New Babylon - Das Bremer Ensemble Für Neue Musik (D) - ES23 (D) - Ext!ze (D) - Fabrik C (D) - Faderhead (D) - Fairytale (D) - Felsenreich (D) - Feuerschwanz (D) - First Hate (DK) - Formalin (D) - Frank The Baptist (USA) - Front Line Assembly (CDN) - Gewandhauschor (D) - Gewandhausorchester (D) - God Module (USA) - Grave Pleasures (FIN) - Grendel (NL) - Greyhound (D) - Grimner (S) - Gudrun Ingimars (IS) - Guerre Froide (F) - Gunnar Kunz (D) - Hapax (I) - Haul (S) - Heidevolk (NL) - Heimataerde (D) - Hekate (D) - Heldmaschine (D) - Hexheart (USA) - Hubertus Schmidt (D) - Illuminate (D) - Imminent & Synapscape (B/D) - Imperium Dekadenz (D) - Ingrimm (D) - Ivo Nitschke (D) - Japan Suicide (I) - Jo Quail (GB) - Joy/Disaster (F) - Kaizer (D) - Kaunan (D) - Kiew (D) - Kilian Hartig (D) - Klutæ (DK) - Leipziger Ballett (D) - Les Discrets (F) - Lukas Dreyer (D) - Lydia Benecke (D) - M. Kruppe (D) - Männerchor Leipzig-Nord (D) - Marco Jodes (D) - Mark Benecke (D) - Markus Heitz (D) - Matthias Eisenberg (D) - Merciful Nuns (D) - Mercury's Antennae (USA) - Michael Schönheit (D) - Michel Bouvard (F) - Midgards Boten (D) - Model Kaos (D) - Modern English (GB) - Monica Jeffries (D) - Monica Richards & Anthony Jones (USA) - Mono No Aware (D) - Monolith (B) - Moritz Eggert (D) - Mr. Kitty (USA) - Mystigma (D) - Nachtsucher (D) - Nachtwindheim (D) - Neumentroll (D) - Neun Welten (D) - Newmoon (B) - Nothgard (D) - Nytt Land (RUS) - Oberer Totpunkt (D) - Oomph! (D) - Ost+Front (D) - Paddy And The Rats (H) - Palast (D) - Pamela Coats (USA) - Pg.Lost (S) - Phil Shoenfelt & Southern Cross (GB/CZ) - Phosgore (D) - Pia Borniert (D) - Pinoreks (D) - Principe Valiente (S) - Pyogenesis (D) - Qntal (D) - Raison D'être (S) - Randolph's Grin (USA/A) - Rapalje (NL) - Readership Hostile (USA) - Rome (L) - Rosa Crvx (F) - Rummelsnuff (D) - Samsas Traum (D) - Sardh (D) - Sarin (IR) - Sascha Lange (D) - Scarlet And The Spooky Spiders (I) - Schandmaul (D) - Scheuber (D) - Schonwald (I) - Second Still (USA) - Seelennacht (D) - Seigmen (N) - Siglo XX (B) exclusive reunion show - Silent Runners (NL) - Siva Six (GR) - Skeletal Family (GB) - Solitary Experiments (D) - Sommerorchester Leipzig (D) - Sonia Becker (D) - Spark! (S) - Stahlr (NL) - Still Patient? (D) 30th anniversary show - Sturm Café (S) - Suir (D) - Suld (CHN) - Sulpher (GB) - Surturs Lohe (D) - Svartsinn (N) - Teho Teardo & Blixa Bargeld - The Arch (B) - The Beauty Of Gemina (CH) - The Crimson Ghosts (D) - The Eden House (GB) - The Fright (D) - The Jesus And Mary Chain (GB) - The KVB (GB) - The Last Cry (GB) - The New Division (USA) - The Other (D) - Theaterpack (D) - Then Comes Silence (S) - Thomas Manegold (D) - Tiamat (S) perform songs from the albums "Wildhoney" and "Clouds" - Tilo Augsten (D) - Torul (SLO) - Totus Gaudeo (D) - Traitrs (CDN) - Traum'Er Leben (D) - Traumtaenzer (D) - Trepaneringsritualen (S) - Trisomie 21 (F) - Undertheskin (PL) - Unterschicht (D) - Verena Marisa (BR) - Vic Anselmo (LV) - Vielle (D) - Vocame (D) - Vogon Poetry (S) - Vomito Negro (B) - Wardruna (N) - Wisborg (D) - Wolfchant (D) - Xenturion Prime (N) - Yasuko Bouvard (J) - Ye Banished Privateers (S) - Zanias (AUS) - Zeraphine (D) - Zeromancer (N) - Zoon Politicon (D) - [:SITD:] (D)
For more information on the confirmed artists, there is a list of their official webpages here: http://www.wave-gotik-treffen.de/english/bands.php. On the WGT website, a newsletter quickly informs you about the latest program updates.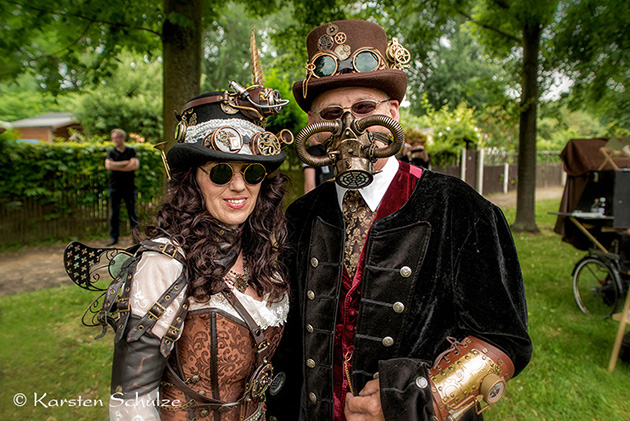 Tickets

Event Ticket

4-days tickets for all events during the 27th Wave Gotik Treffen 2018 are available for 120 EUR on pre-sale (incl. pre-sale charges).
Parking Vignette
In order to use the parking places on the Treffen Area, a parking vignette for 15 EUR (incl. pre-sale charges) for the whole time of the festival is necessary. Important! Without a vignette you're not allowed to park at the area.
Camping

Possible with "Obsorge Ticket", limited up to 9,999 tickets for 25 Euro (includes advance sale charges), contains the following service-package: Camping at the Treffen-Campground (agra-fairground)
Important!: Without an Obsorge Ticket the entering and the use of the camping grounds is not possible. The Obsorge ticket is only valid in combination with an event ticket and has to be bought for each person separately.
You can order your tickets here
http://www.wave-gotik-treffen.de/karten.php (Germany)
http://www.wave-gotik-treffen.de/english/karten.php (foreign countries)
Official WGT program book "Pfingstbote"

The book will be available for a price of 15 EUR both at the box offices and the central WGT merchandise stall at the Agra market hall.
Additional festival information
Further information will follow soon and are always available at http://www.wave-gotik-treffen.de/english/
WGT on Facebook: https://www.facebook.com/WaveGotikTreffen/
Event on Facebook: https://www.facebook.com/events/483028515397351/
Location
Leipzig, eastern Germany (at about 50 venues, spread all over the city); camping site and main venue at the edge of town at the "Agra-Messepark" Markkleeberg; for information on the city you may check http://en.wikipedia.org/wiki/Leipzig or the official city website http://www.leipzig.de/int/en; overview of where events will take place: http://www.wave-gotik-treffen.de/english/info/orte.php.
Music styles

All kinds of dark music: Gothic; EBM; Industrial; Ambient; Neofolk; Synth-pop, Goth-Metal etc.
Expected number of visitors

About 20,000
Info line

0049-341-2120862 / Email:
This email address is being protected from spambots. You need JavaScript enabled to view it.
WGT-app

The useful and free app WGT-Guide can be downloaded in the app stores of Google Play, iTunes or Amazon.
"Low emission zone" in Leipzig

Since March 2011 about 60 percent of the urban area of Leipzig has been declared a "low emission zone" to protect the environment from air pollution. Therefore, within this zone only vehicles which have an official green sticker placed on the front windscreen are allowed. To obtain such a sticker, the vehicle must meet certain standards (i.e. age, type of fuel, diesel particulate filter etc.). This regulation is also valid for foreigners who travel to Leipzig by car. If you cannot show a valid sticker during a traffic check, you will have to pay a fine of 80 euros. The stickers are available for about 5 euros at most car repair shops in Germany or via internet, e.g. the website of TÜV-Nord (6 euros): https://www.tuev-nord.de/en/private/traffic/car-motorcycle-caravan/emissions-sticker/order/. ATTENTION: The agra-area with parking lot and camping site can be reached via A38 / B2 without having to enter the "low emission zone"! That means it is possible for visitors to park their vehicle at the agra-parking lot (you will need a WGT parking ticket in this case, which can also be obtained on location) and reach all other locations by public transport. Please use the following links to find more information: https://www.tuev-nord.de/de/privatkunden/verkehr/auto-motorrad-caravan/umweltplakette / http://www.leipzig.de/umwelt-und-verkehr/luft-und-laerm/umweltzone / www.lowemissionzones.eu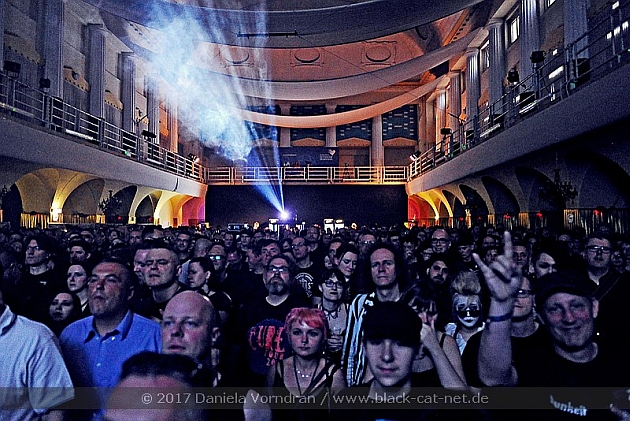 WGT special tips

Apart from famous bands of the scene, the coming WGT program will again include several hidden treasures whose names are maybe not known to everybody, but which will surely perform outstanding concerts. So before visiting the WGT, it's worthwhile to take a closer look into the program and to listen to some sample tracks of the artists you don't know. Here are some hints on a few less known, yet interesting bands and artists which will play at the WGT 2018:
Actors- Postpunk | Canada - https://www.youtube.com/watch?v=XqVjkkjD1g0

On their Facebook page, they cite DAVID BOWIE, BRIAN ENO, ROXY MUSIC, THE CURE, ECHO AND THE BUNNYMEN, JOY DIVISION, NEW ORDER, PORTISHEAD and DAVID LYNCH as influences on their music. To be honest, coupled with musical talent, what can go wrong there?
A Projection - Postpunk, Indie | Sweden - https://www.youtube.com/watch?v=TtUxCa1aZok

A PROJECTION impressively prove that Sweden isn't just a source of fantastic Synth Pop. Their influences range from THE CURE, THE SMITHS, JOY DIVISION / NEW ORDER, THE SISTERS OF MERCY, INTERPOL and THE EDITORS to KRAFTWERK, DEPECHE MODE, D.A.F. and THE KNIFE. Since last year they seem - and rightly so - to be playing every imaginable festival, and this year it finally works at the WGT.
Autobahn - Postpunk | Great Britain - https://www.youtube.com/watch?v=9D7XJ5HXXQs

'Beautiful Place To Die', 'Suicide Saturday', 'Deprivation'... If you look at the names of their titles, you know immediately: this is no children's birthday party. The band name might lead some KRAFTWERK fans astray, because these guys from Leeds are not so much inspired by the German electronic pioneers, as they are by the dark rocking heroes of their hometown, like THE MARCH VIOLETS, RED LORRY YELLOW LORRY or the SISTERS OF MERCY.
Beinhaus - Industrial | Germany - https://www.youtube.com/watch?v=9ARjvs7Y1xo

Unfortunately, most of us were not able to experience EINSTÜRZENDE NEUBAUTEN live during their radical heyday in the 80s. Today's concerts and albums from the industrial pioneers are also beautiful, but they've really calmed down with age. With BEINHAUS you can travel back in time visually and acoustically - to collapse... Plagiarism? Homage? Ingenious or superfluous? You decide.
Black Line - Electro, IDM, Experimental | United Kingdom / USA - https://www.youtube.com/watch?v=DMc13jlKY0w

New project from the US producer cyrusrex, who has already worked with SKINNY PUPPY and DEPECHE MODE. In collaboration with Douglas McCarthy and Bon Harris (NITZER EBB) and many other studio guest appearances in 2017, the first work 'Treason, Sedition And Subversive Activities' seems to have been created just for lovers of exciting, intricate electronics. Live this year not only as support of the current DEPECHE MODE Tour, but also at the WGT in Leipzig!
Bootblacks - Postpunk, Synth Wave | USA - https://www.youtube.com/watch?v=OSsEBIk3drE

Founded in New York in 2010, their early work sounded a bit rougher and more guitar-based. Barrett Hiatt's (THE HARROW) arrival shifts the sound to New Wave through the increased use of synthesizers from postpunk, which certainly won't offend fans of NEW ORDER and similar bands.
Boy Harsher - Synth Wave | USA - https://www.youtube.com/watch?v=H1Zm6E6Sy4Y

Surfing to the top of the current "synth wave", 'Pain' is playing at every party. Their recordings are going for insane prices. Watch, dance!
Buzz Kull - Synth Wave | Australia - https://www.youtube.com/watch?v=Zh97_GiIDzs

Promising young project from far away Sydney in the style of Ash Code, Boy Harsher or Skeleton Hands.
Confrontational - Minimal Synth, Retrowave | Italy - https://www.youtube.com/watch?v=oWffg90Es9E

If you get Goosebumps hearing the intro of the cult series 'Stranger Things', then this is for you. The Italian Massimo Usai floats at the top of the ongoing 80s retro-wave between NEW ORDER and John Carpenter, whose son Cody he has collaborated with on his albums, other collaborators include TYING TIFFANY, Tobias Bernstrup or - as in the video example - Hélène De Thoury (HANTE, MINUIT MACHINE, PHOSPHOR). It will be interesting to see if he can match the perfection of his LPs in a live concert.
Crying Vessel - Minimal synth, retro wave - https://www.youtube.com/watch?v=0OJh7p2uhPA

For once, something the Swiss did not invent, but they do everything right. Great debut album, hopefully just as great a concert!
Dead Leaf Echo - Shoegaze, Indie | USA - https://www.youtube.com/watch?v=wVRGGrl_QVA

Friends of SLOWDIVE and RIDE are sure to get their money's worth here.
Detachments - Cold Wave, Postpunk | Great Britain - https://www.youtube.com/watch?v=2lZZ_oAtKDc

This London formation exists since 2009, and this year after a long silence they're putting out a new EP on Young And Cold Records. Even Peter Hook was so excited about them years ago that not only did he play bass on stage with them in Salford, but he also released their single 'Fade' on his Hacienda Records label. You can now find out live at the WGT whether or not these laurels are justified.
Drifter - Indie, Shoegaze | Sweden - https://www.youtube.com/watch?v=ICer_BbOMYg

Occasionally one hears complaints that the WGT only books bands which have hardly any clicks on YouTube and are therefore not known by anyone. As long as they sound like this quasi-follow-up project of the guitar goddess Jeniferever, which is about to release its first record, what's the problem? Is there something wrong with giving young bands a chance?
Guerre Froide - Cold Wave, Minimal Wave | France - https://www.youtube.com/watch?v=ahs-oaAemjg

Titles such as 'Demain Berlin' are among the eternal classics of the classic 80s Cold Wave. Finally for the first time at WGT.
Japan Suicide - Wave, Shoegaze | Italy - https://www.youtube.com/watch?v=10VjfRHF49U

Not a very new band, but probably still flying under the radar of most. This year they released Santa Sangre, their third album since their founding 8 years ago, again with sounds somewhere between THE CURE and SLOWDIVE.
Les Discrets - Shoegaze, Post-Metal | France - https://www.youtube.com/watch?v=K-tiotDThIE

Musically similar to ALCEST, Fursy Tessier, alias LES DISCRETS, also gives goose bumps to lovers of depressive guitars.
Mr. Kitty - Self-Destructive Synthpop | USA - https://www.youtube.com/watch?v=zZQgmM_ZhEc

After support shows for VNV NATION in the US and numerous appearances in Europe Forrest LeMaire from Texas certainly not a real insider tip anymore, rightly so. A great show!
Sarin - Techno, EBM | Iran - https://www.youtube.com/watch?v=7OAJSNBQ0Gg

After KONKURS (his joint project with Blush Response) was unable appear at the WGT last year due to personal reasons and became a Blush Response solo show, lovers of sombre and EBM and New Beat influenced Techno get another chance this year to suffer some evil leg spasms from dancing.
Second Still - Postpunk, Coldwave | USA - https://www.youtube.com/watch?v=KAWcbUxH-fo

Their eponymous debut album on Manic Depression Records was one of the best records of the last year and brings fans of the early COCTEAU TWINS, BANSHEES or CHAMELEONS to tears of joy. Live as powerful as recorded. Do not miss!
Seigmen - Alternative Rock | Norway - https://www.youtube.com/watch?v=1VUcljne3qg

Before ZEROMANCER existed, there was SEIGMEN - with a nearly identical line-up. But even today, only a few people outside Norway know about them. During the 1990s they filled huge concert halls and climbed to the top of the charts in Norway. Friends of PLACEBO, MADRUGADA or MOTORPSYCHO, or slightly melancholic alternative rock in general should lend an ear here. You never know how long a reunion will last.
Silent Runners - Postpunk, Synth Wave | Netherlands - https://www.youtube.com/watch?v=CWREpoanOoY

You can see it clearly - the genre is booming like no other, and all over the globe new bands pop up nearly every week. This is also reflected in the WGT line-up. Arriving on the scene at the end of 2017 in neighbouring Holland, they've been very convincing from the first notes of their debut 'The Directory'.
Stahlr - Indiepop, Electronica | Netherlands - https://www.youtube.com/watch?v=fmX0eJ4qQCE

They described themselves so: "Stahlr sounds like the Cocteau Twins are performing a musical version of Mary Shelley's Frankenstein in a concrete basement garage." Guitars, gloom and cold. Pretty close.
Suir - Postpunk | Germany - https://www.youtube.com/watch?v=LqYcNYDQzFY

"Cinematic Postpunk" from Frankfurt am Main. In 2017, they released their debut LP, 'Ater', and their deep black, atmospherically reverberated sound. Imperative for all depressed guitar fetishists.
Then Comes Silence - Post-Punk, Goth Rock | Sweden - https://www.youtube.com/watch?v=cBxl9WhDnLE

On the road since 2012 and unstoppable. Your record collection includes BAUHAUS, RED LORRY YELLOW LORRY and the SISTERS? Then lend an ear!
Traitrs - Postpunk | Canada -https://www.youtube.com/watch?v=dTC54OWTziY

It may be that the WGT program has an oversupply of young post-punk bands this year. But who's complaining about it? And sometimes you have to use opportunities in the moment that they offer themselves. If the Canadian duo TRAITRS is currently in Europe, for example ...
Trepaneringsritualen - Death Industrial | Sweden - https://www.youtube.com/watch?v=nBTge4jkQU0

Not brand new, and they've played WGT before. Nevertheless, recommended again for those who mourn the ritual machine sounds of Cold Meat bands like Brighter Death Now, Memorandum or MENTAL DESTRUCTION.
Undertheskin - Postpunk, Gothrock | Poland - https://www.youtube.com/watch?v=vgYX6rNrT9U

Their first self-named CD was already released in 2015, but some things take a bit longer at the WGT ... nonetheless, the mix of fog-flooded walls of guitar and ice-cold drum machines will not only inspire SISTERS fans.
Zanias - Synth Wave, Techno | Australia - https://www.youtube.com/watch?v=e7Tc5Nk_n4M

Basically superfluous in this list, because anyone who isn't already familiar with Zoe Zanias from her previous bands called LINEA ASPERA or KELUAR on the way, probably last listened to music in 2010. This is only mentioned for the sake of completeness, because the performance should be one of the highlights of the WGT where she will play not only current material but also pieces from all of her projects! Cold electro sounds in perfect combination with hypnotic vocals.