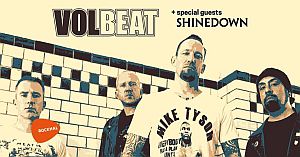 Rockhal, Esch sur Alzette, Luxembourg
11th June 2018
Volbeat & Shinedown

VOLBEAT. One word. One band. One inimitable sound. One matchless approach to music. Yet the possibilities are endless. And why shouldn't they be? When you have a band that is more than willing to break musical boundaries and the world's preconceived notions about musical styles you have a rarity-one that is anchored by a heady mix of Rockabilly, early Rock & Roll and Metal held together by a handful of pomade and nine gauge super slinky strings... A Danish wonder that has the metal world standing up, taking out their ear plugs and removing their blinders. What you hear and what you see leaves you with a musical tattoo - indelible, significant and most importantly, long lasting.
Formed in Copenhagen in 2001, and currently comprised of vocalist and guitarist Michael Poulsen, guitarist Rob Caggiano, bassist Anders Kjølholm and drummer Jon Larsen, VOLBEAT has released five studio albums and two live offerings all chart toppers and/or certified gold and platinum in Europe and Canada. The past decade has seen the band steadily increasing their fan base with their unique blend and style of music and uncompromising stage shows. VOLBEAT continues to marry Heavy Metal and Rockabilly, smear it with a kiss of crunchy guitars and drive away in a vintage Cadillac stuffed with Marshall plexis and filled with leaded gas.
The band has now sold over 2,500,000 albums and this further proves that VOLBEAT's sound is more than just an amalgam, or even a fusion, it is the sonic antithesis to current trends in Metal and Rock. It's a musical rebellious hot rod chugging out heavy guitars, pounding bass and a relentless drum backbeat that grabs you in the gut and with a wink, says, "now listen to this!" Time and again, VOLBEAT has proven that their talent is anchored by an indefinable style and attitude that taps into your inner rebel, grabs it by the jugular and takes it for a ride down a new highway... headed straight for an anachronistic reverberation that puts a much needed new spin on music today... modified for a linear race to the top.
Additional Concert Info

Doors: 19:00
Show: 20:30
Tickets: 47€ + 4.70 € presale fee (SOLD OUT!!)
Info: http://www.rockhal.lu/agenda/metal-heavy/show/detail/volbeat-2/
Facebook Event: https://www.facebook.com/events/215262439027021/
More on
Volbeat
and
Shinedown