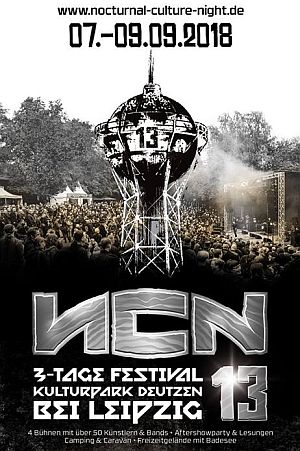 Kulturpark, Deutzen, Germany
7th to 9th September 2018
NCN 13 with Marc Almond, Peter Hook and the Light, D:uel, Die Krupps, Kirlian Camera, Agent Side Grinder, I Like Trains, Clock DVA, S.P.O.C.L, Zeromancer, Henric de la Cour and many, many more

It is always at the farthest end of the festival season in autumn when a little festival takes place that over the years has gained considerable recognition amongst dark music lovers: The Nocturnal Culture Night (NCN) festival is celebrating its 13th year anniversary this year. And when it comes to anniversaries people everywhere tend to make this a really special thing.
The line-up is diversified as always and there will be a warm-up party once more at 6th September 2018 with BLAC KOLOR and more live bands which will be announced shortly. The new Weidenbogen stage, as you know it from the last two years, will be there once more with a great line-up. As every year, the festival is taking place inside the boundaries of the picturesque landscape of the culture park in a little place called Deutzen (about half an hour away from Leipzig). It's not only the familiarity of the atmosphere that has shaped its reputation, moreover it is the vast assortment of bands the organizers come up with every year anew that differs quite a bit from the usual. The line-up is special as always and many great bands - well-known and rather unknown ones - will be playing to celebrate 13 years of NCN!
The line-up is nearly complete now. As in recent years, it will be very interesting and diverse. Apart from the music there's, as always, a social program as well, including the traditional medieval market, readings and more that will make the festival a complete experience for all senses. Furthermore, this festival has a special family feeling, it is quite small even though there are now all in all four stages, the big one being a little Amphi theatre where you have a great view onto stage no matter where you stand.
Line-up per 7th June 2018 in alphabetical order

7pm Ritual, Agent Side Grinder, Any Second, Assemblage 23, Clock DVA, Controlled Collapse, D:uel, Die Krupps, Escape With Romeo, Evi Vine, FAID, Fïx8:Sëd8, Harmjoy, Heimataerde, Henric de la Cour, Hørd, I Like Trains, I-M-R (In My Rosary), Kas Product, Kirlian Camera, Kælan Mikla, Lizette Lizette, Machinista, Marc Almond, Orange Sector, Peter Hook & The Light, Plastic Noise Experience, Red Cell, S.P.O.C.K, Scheuber, St. Michael Front, Stalingrad V, Steril, Suir, Sündenrausch, Tanz Ohne Musik, TC75, The Beauty Of Gemina, The Devil and The Universe, The Foreign Resort, Tyske Ludder, UV Pop, Vlad In Tears, Welle Erdball, Whispering Sons, White Birches, Widukind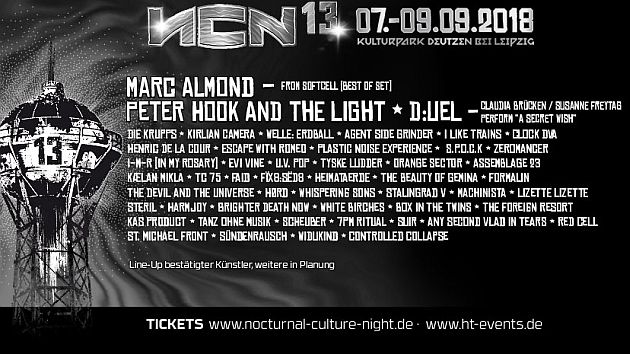 Tickets

For the NCN 2018, there will be provided a limited number of original tickets which can be ordered only via the NCN homepage. As in previous years, original tickets are provided for different ticket categories:
1-Day Tickets for Thursday (warm-up party) each 10€
1-Day Tickets for Friday, Saturday, or Sunday each 43€
Festival Tickets including Camping: 69€
Festival Tickets Kids including Camping: 39€
Festival Tickets without Camping: 64€
Festival Tickets Kids without Camping: 34€
Parking tickets: 12€
Caravan tickets are already sold-out
Regular tickets are available online the following ticket shops like
Eventim
.
Further Information is available at: http://www.nocturnal-culture-night.de/