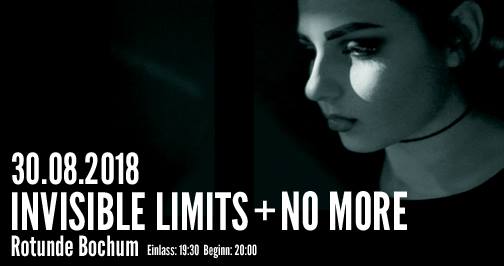 Rotunde, Bochum, Germany
30th August 2018
Invisible Limits & No More

INVISIBLE LIMITS are one of the most successful German Synth Wave bands of the 80s. In this country, they are among the pioneers of the early New Wave culture. From the beginning, the band developed their own style of hypnotic sequencer beats and melodic guitar. With the crystal-clear vocals of Marion Küchenmeister, the productions found their unmistakable character. To date, songs like 'Golden Dreams' or 'Natalie's' are integral parts of every wave party in European clubs.
After successful tours in Germany, Spain and South America, the band celebrated its 20th anniversary in 2005 in the Bochum club Zwischenfall - the last joint concert in Germany. After several years of calm and change, in May 2017 a number of noteworthy remixes of their songs appeared in a remix collection. The success brought them back in a new formation onto the concert stages with a setlist of old classics and new songs. Fans of INVISIBLE LIMITS can look forward to moving moments. http://www.invisible-limits.de/
NO MORE was founded in 1979, when Punk and New Wave sweep away the 70s, disbanding in 1986 when the 80s are too 80s. NO MORE returned at the end of 2008, now as duo consisting of Tina Sanudakura and Andy Schwarz. They play concerts all over Europe, are more successful than ever, do not rest on old laurels and produce three new albums. With their new, highly acclaimed album 'Silence & Revolt', NO MORE pushes into new realms: "Pop is the answer" or, as the Westzeit puts it: "... your new work impressively proves how to develop without the roots of Self-denying."
"It is not said without reason that the bee stings from the back! NO MORE have saved the best music for their late stages." (Sonic Seducer) Because NO MORE have long outgrown their 80s classic 'Suicide Commando'. They present their mix of Post-Punk, Pop and Electronica live throughout Europe, their existentialist 'All Is Well - Senza Macchia' underpinned a Dortmund "Tatort" and "Turnaround", the instant classic of the current album, provides full dance floors. Such a vital, energetic and intense post-punk pop-electronica performance is guaranteed not to be seen every day. www.nomoremusic.de
Don't miss the evening when both influential bands will be joining on stage!
Additional Concert Info

Doors: 19:30
Starts: 20:00
Tickets: Tickets are available for 16 euros via https://rotunde.ticket.io/j2k7g4tx/?lang=de&view=table
Info: https://www.rotunde-bochum.de/event/invisible-limits-no-more-live-in-der-rotunde-bochum/
More on
Invisible Limits
&
No More