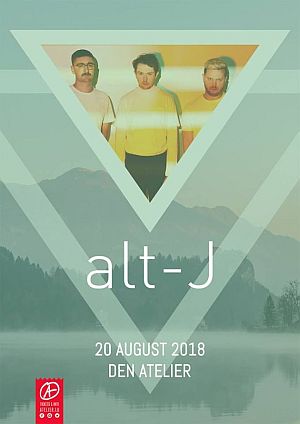 Den Atelier, Luxembourg City, Luxembourg
20th August 2018
Alt-J

Quietly, resolutely, impressively, singularly, alt-J have become one of the biggest British bands of whatever it is we're calling the 21st century's second decade (the "Teenies"? Ugh, no thanks). Art-electro, math-folk, hymnal-rock, call it what you will - none of it is wholly wrong, all of it is someway right - but the music made by Joe Newman (singer/ guitarist), Gus Unger-Hamilton (keyboards/ vocals) and Thom Green (drums/ electronics) is the muscular sound of cutting edge innovation pumped by a melodically bleeding heart. Ten years after forming at Leeds University, ALT-J are a post-guitar group for the new-pop generation. And as audiences all over the world know, when they get going, they rock hard.
A Mercury prize and an Ivor Novello win with their debut. A Madison Square Garden sell-out and a Latitude headline with their second. Number One in the UK, Number Four in the US; three Brit nominations here, a Grammy nomination there. Three years of world touring that have forged a live reputation as fierce as the trio are tall (that is, very).
Late last summer, they decided it was time to get back in the saddle. So they did what a now globally-successful band who'd made two albums in low-key London studios with one producer would obviously do: they didn't change a thing. It's a mark of ALT-J's confidence and sense of musical self that they didn't need to go the "traditional" third-album route (i.e. a year bouncing around the world's most expensive studios, wrestling with writers' block and newfound ayahuasca habits, with production by Mr Hotshot Hitmaker). They again bunkered in London, spending the latter portion of 2016 in a no-frills rehearsal space in Stoke Newington. Then they re-connected with producer Charlie Andrew. He is, the threesome avow, like the fourth member of ALT-J.
Additional Concert Info

Start: 7:00 PM
Tickets & Info: http://www.atelier.lu/Upcoming-Shows/Alt-J
Facebook Event: https://www.facebook.com/events/1710939605640079/
More on
Alt-J