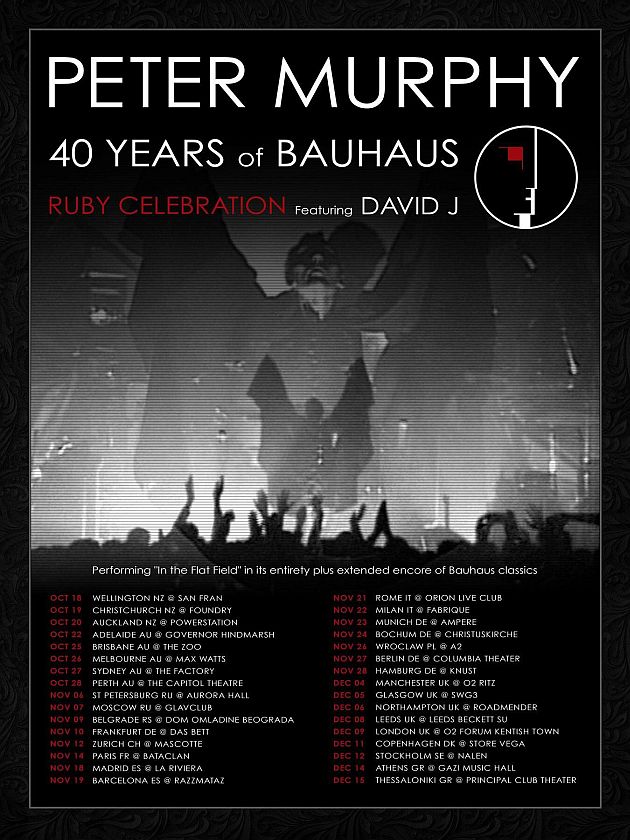 Christuskirche, Bochum, Germany
24th November 2018
Peter Murphy - 40 years of Bauhaus feat. David J

The "Godfather of Goth" returns to the stage and gives an overview of 40 years BAUHAUS and thus also the history of a subculture. When the four art students Peter Murphy, Daniel Ash, David J and Kevin Haskins founded a band in 1978, the dimensions was not to be foreseen. They influenced people, music, movies and even comics.
With 'Bela Lugosi's Dead', BAUHAUS succeeded in creating a masterpiece of musical and content sophistication that earned them positive reviews and a place in the British Post-Punk culture. The song climbed in the independent charts for two years and the debut album, 'In the Flat Field', made it into the top 100 records sold. Again and again the four musicians linked dark thoughts and melancholy music so that they spoke out of many soul. In the first album of the band it says "I'll still be here as strong as you" (song: 'crowds'), but in the last album the trailblazers of Goth-Rock have to confess "We put the clocks forward, We put the clocks back, Mirror is never fooled" (song: 'mirror remains').
Peter Murphy and David J return to the stage for the 40th anniversary of BAUHAUS and show with their "Ruby Celebration" that death-belied ones like Bela Lugosi live longer.
Tour-Dates 2018

Oct. 18 - Wellington NZ@ San Fran
Oct 19 - Christchurch NZ@ Foundry
Oct 20 - Auckland NZ @ Powerstation
Oct 22 - Adelaide AU @ Governor Hindmarsh
Oct 25 - Brisbane AU @ The Zoo
Oct 26 - Melbourne AU @ Max Watts
Oct 27 - Sydney AU @ The Factory
Oct 28 - Perth AU @ The Capitol Theatre
Nov 6 - St Petersburg RS @ Aurora Hall
Nov 7 - Moscow RS @ Glavclub
Nov 9 - Belgrade RS @ Dom Omladine Beograda
Nov 10 - Frankfurt DE @ Das Bett
Nov 12 - Zurich CH @ Mascotte
Nov 14 - Paris FR @ Bataclan
Nov 18 - Madrid ES @ La Riviera
Nov 19 - Barcelona ES @ Razzmataz
Nov 21 - Rome IT @ Orion Live Club
Nov 22 - Milan IT @ Fabrique
Nov 23 - Munich DE @ Ampere
Nov 24 - Bochum DE @ Christuskirche
Nov 26 - Wroclaw POL @ A2
Nov 27 - Berlin DE @ Columbia Theater
Nov 28 - Hamburg DE @ Knust
Dec 4 - Manchester UK @ O2 Ritz
Dec 5 - Glasgow UK @ SWG3
Dec 6 - Northampton UK @ Roadmender
Dec 8 - Leeds UK @ Leeds Beckett SU
Dec 9 - London UK @ O2 Forum Kentish Town
Dec 11 - Copenhagen DK @ Store Vega
Dec 12 - Stockholm SW @ Nalen
Dec 14 - Athens GR @ Gazi Music Hall
Dec 15 - Thessaloniki GR @ Principal Club Theater
Additional Concert Info

Doors: 19:00
Start: 20:00
Tickets: are available for EUR 43 directly from the Christuskirche website and from
Eventim
More information: http://www.christuskirche-bochum.de/veranstaltung/peter-murphy-40-years-of-bauhaus-feat-david-j/
More on
Peter Murphy
and
Bauhaus