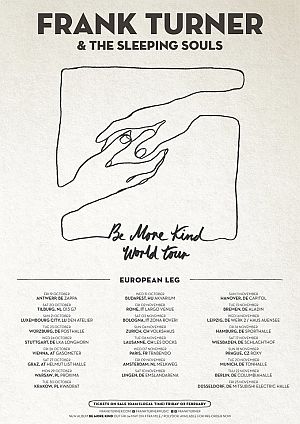 Den Atelier, Luxembourg City, Luxembourg
21st October 2018
Frank Turner, PUP, Xylaroo

FRANK TURNER will make a fabulous return to the 'Bourg with his seventh studio album, 'Be More Kind'. Each record now brings with it new landmarks for the 36-year-old from Hampshire. This ultra-talented singer/ songwriter inhabits bold new territory, an ambitious artist unrestricted by rules or expectations.
Months after the release of 'Songbook', a career-spanning retrospective which also saw reworked versions of tracks from across the past decade, 'Be More Kind' represents a thematic and sonic line in the sand for the 36-year-old. It's a record that combines universal anthems with raw emotion and the political and the personal, with the intricate folk and punk roar trademarks of Turner's sound imbued with new, bold experimental shades. 'Be More Kind' has been produced by Austin Jenkins and Joshua Block, formerly of psychedelic-rock TEXANS WHITE DENIM, and FLORENCE AND THE MACHINE and HALSEY collaborator Charlie Hugall.
"I wanted to try and get out of my comfort zone and do something different,"
says Turner.
Turner was halfway through writing a very different sort of album, a concept record about women from the historical record who had been ignored, when he was reading a collection of Clive James' poetry and one particular line compelled him to re-think his direction. It was from a poem called Leçons 'Des Ténèbres':
"I should have been more kind. It is my fate. To find this out, but find it out too late.""It devastated me the first time I read it,"
he says.
"A lot of older, wiser people tend to say things like that, that the things that come out in the wash at the end of a human life are the way you treated the people around you. In the modern world, that's a lesson that all of us, myself included could do to learn."
Now he just has to work out how they are going to play them live. The "Be More Kind World Tour" was starting in April, with its first leg playing to over 200,000 people across the UK, the USA, Europe, Canada, Australia and New Zealand, taking them through to Christmas. Turner promises that 2019 will include visits to some
"slightly more weird and wonderful places."
"My days of being engaged in an arms race to be the hardest touring musician in the universe are behind me now,"
he says.
"We're going to tour hard but come home regularly in the middle of it."
The first batch of announcements covers 120 dates. Some old habits die hard. These are songs that demand to be heard and FRANK TURNER is packed and ready to go.
Additional Concert Info

Doors: 19:00
Show: 20:00
Tickets: 26€ + presale fee
Info & Tickets: http://www.atelier.lu/Upcoming-Shows/Frank-Turner
Facebook Event: https://www.facebook.com/events/333459493805808/
More on
Frank Turner
,
PUP
&
Xylaroo