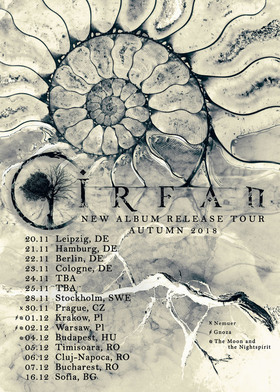 Hangar 49, Berlin, Germany
22nd November 2018
Irfan - "New Album Release Tour" Autumn 2018

IRFAN is an "ethereal" medieval band from Sofia, the capital of Bulgaria, using electro elements. The band was founded back in 2001. The band released three albums so far, called 'Irfan' (2003), 'Seraphim' (2007) and 'The Eternal Return' (2015). IRFAN just recently announced the release of their 4th album. The album name is not known yet, also the exact release date is still to be announced, it's planned for autumn 2018 though, so we won't have to wait too long for sure.
IRFAN's music is spiritual and you can hear the faeries in the woods whispering while listening to their music. The spherical sound of their music is leading the listener directly to an era long time ago, imaging old sagas and oriental myths. The eastern and oriental influence has a save place in their music and the light and soft voice of Vladislava Todorova who joined the band in 2006. Mystic lyrics from ancient times and hypnotic flutes are some of the elements you can find in their music.
To celebrate the album release the band from Sofia is going on an extended European tour with 14 dates announced so far. One of the magical shows is going to take place in the German capital Berlin, at Hangar 49 on 22nd of November. Don't miss it!
Additional Concert Info

Doors: tba
Start: 20:00
Tickets: from 12.00 € + Charges (Pre-Sale)
Info and Tickets: https://gibelin.reservix.de/tickets-irfan-in-berlin-hangar-49-am-22-11-2018/e1264908
Artist: https://irfan.bandcamp.com/releases / https://www.facebook.com/Irfantheband
More on
Irfan