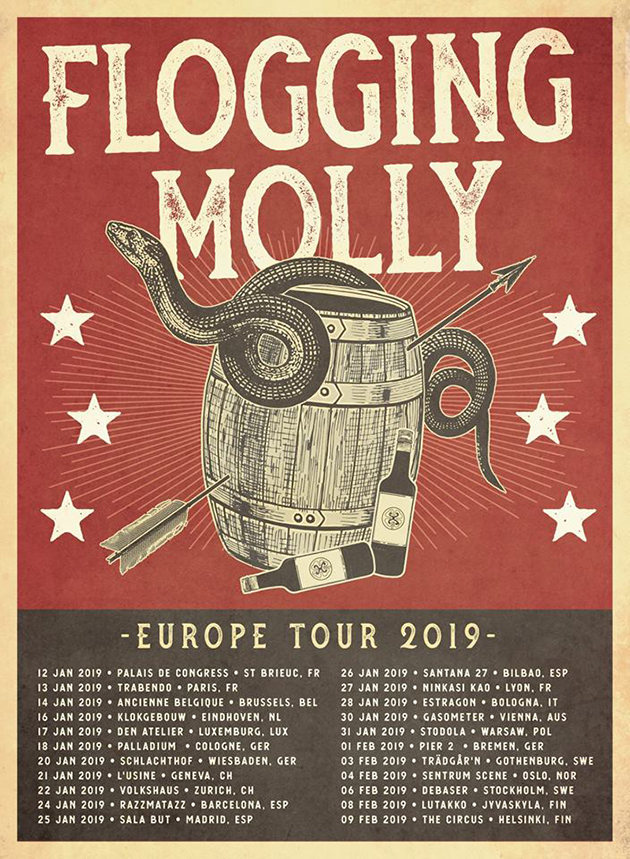 Den Atelier, Luxembourg City, Luxembourg
17th January 2019
Flogging Molly

Hardly any other band spreads such a good mood like the band from California and Ireland. With energetic shows they provide a lot of fun, sweat and pogo for the audience. Frontman and mastermind Dave King radiate a lot of Irish feeling for life. With their sixth studio album 'Life is Good' FLOGGING MOLLY will play at the A on Thursday, January 17, 2019, after their successful "Life is good Tour".
FLOGGING MOLLY, probably the best known symbiosis of Irish folklore and punk music, was founded in 1997 at Molly Malone's Pub in LA. There they recorded the album 'Alive Behind The Green Door' in the same year. The seven changing members master folk guitar, mandolin, banjo, accordion, fiddle and tin whistle as well as the punk-typical instruments electric guitar, bass and drums.
Until 2011 the band released nine albums. Also in Germany more and more people become aware of the band, at the latest since the 2004 album 'Within A Mile Of Home' they are no longer the unknown insider tip, as they were a few years ago.
Additional Concert Info

Doors: 19:00
Start: 20:00
Tickets: SOLD OUT
Information: https://www.atelier.lu/Upcoming-Shows/Flogging-Molly
Facebook Event: https://www.facebook.com/events/346771059201091
More on
Flogging Molly