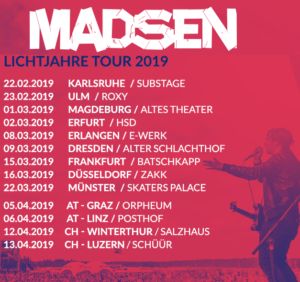 Skaters Palace, Münster, Germany
22nd March 2019
Madsen - "Lichtjahre" Tour 2019

It nearly seems like MADSEN have also recorded some songs from their current album 'Lichtjahre' (Light Years) to make life easier for writers of their press releases. Actually, you could save yourself the next few lines and just turn on 'Rückenwind' (tailwind). "Wir haben Rückenwind, wir können überall hin!" (We have tailwind, we can go anywhere!), sings Sebastian Madsen in this "Go ahead and go out" hymn, while the band recreates the musical equivalent of this feeling with guitar, bass and drums.
Classic Madsen it is - goes forward, has sadness, let's you sing along with a clenched fist in the front row in front of the stage as well as in the car on the road trip with the loved ones. The same can be said about the great 'Sommerferien' (summer vacation). And about 'Wenn alles zerbricht' (When everything breaks up). And 'Wenn es einfach passiert' (If it just happens). And… well… just have a look onto the 'Lichtjahre' track list.
Madsen not only feel the "tailwind" in their already so long running career, they take it at the same time literally and so they extend the tour to 'Lichtjahre' once again and tour Germany in February and March 2019. Also first festival shows are already confirmed.
Additional Concert Info

Doors: 19:00
Start: 20:00
Tickets: are available for 36.00 euros + charges (pre-sale) via
Eventim
Info: https://www.skaters-palace.de/veranstaltungen/madsen-lichtjahre-tour-2019
More on
Madsen