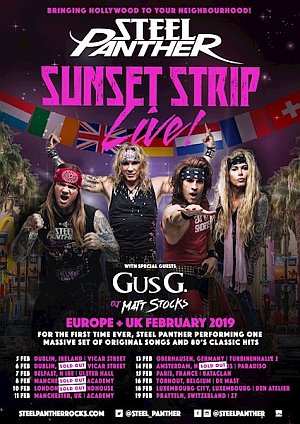 Den Atelier, Luxembourg City, Luxembourg
18th February 2019
Steel Panther - "Sunset Strip"

In February 2018, the uncrowned kings of the Hollywood Glam Metal were last seen on their "Lower The Bar Tour" in Luxembourg. Even before the band starts their "Sunset Strip" Europe + UK tour in February, STEEL PANTHER pull the first official treat of the year out of their tight back pockets: Besides their own songs, the focus is on Rock classics from the 1980s, for example 'Jump' (VAN VALEN), OZZY OSBOURNE's 'Crazy Train', 'Rock You Like A Hurricane' by the SCORPIONS or 'Livin' On A Prayer' (BON JOVI). The setlist varies every evening.
Lead singer Michael Starr, guitarist Satchel, bassist Lexxi Foxx and drummer Stix Zadinia are known as the best Neo-Metal, Glam revival parody band. They have released four studio albums and one live album, enjoy platinum status on YouTube, have appeared in numerous TV shows and toured the world. With 'All You Can Eat', their penultimate studio album, STEEL PANTHER reach high chart positions everywhere: In April 2014, the album will be number 15 in Germany, number 13 in Austria, number 22 in Switzerland, number 12 in Great Britain and number 24 in the USA. In autumn 2014 they support Heavy Metal legend JUDAS PRIEST on their US tour. Their German tour in March 2015 is sold out, and there are no tickets left for their London concerts in the legendary Venues Wembley Arena, Brixton Academy and Hammersmith Apollo. At the Download-Festival 2015 in Castle Donington they perform on the main stage in front of more than 80,000 spectators.
On February 26, 2016 'Live From Lexxi's Mom's Garage' will be released, the first live acoustic album recorded by Michael Starr, Satchel, Lexxi Foxx and Stix Zadinia in October 2015 in Los Angeles in front of a select audience. On 24 March 2017, the band finally released their fifth studio album 'Lower The Bar'. Their success continues to prove STEEL PANTHER right: In Germany they are ranked 14th, in Austria 15th, in Switzerland 30th, in Great Britain 24th and in the USA 40th place. After a successful co-headliner tour through North America with STONE SOUR, they release a video for 'Wasted Too Much Time' in October 2017, in which STONE SOUR is part of and which has found over a million viewers on the net so far. Further tours will follow, and the halls in Germany will also be sold out in February 2018. On 18 February 2019 the band invites all fans to Luxembourg. The party continues!
Additional Concert Info

Doors: 19:00
Start: 19:30
Information & Tickets: https://www.atelier.lu/Upcoming-Shows/Steel-Panther
Facebook Event: https://www.facebook.com/events/245142636160381/
More on
Steel Panther