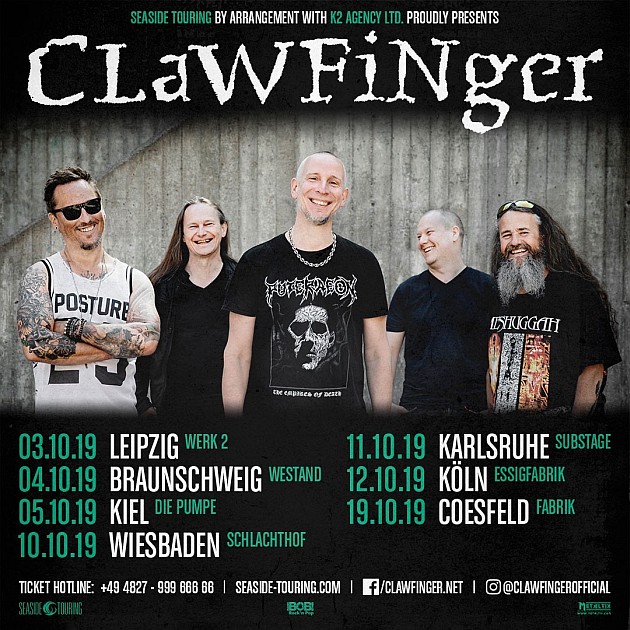 After the huge success of last year's tour with numerous sold-out concerts, CLAWFINGER are giving us an encore this coming October. The Swedish crossover artists will once again perform their 1993 ground-breaking debut album, 'Deaf Dumb Blind', in its full length. CLAWFINGER have released the following statement: "We treated ourselves to a short coffee break and suddenly it has been 26 years since we released our album debut 'Deaf Dumb Blind'!" commented the Swedes.
"If this is not a reason to celebrate, then we will never have one, so we have decided to do more shows in some of our favourite cities. Our plan is simple: we will play the album from start to finish - and then throw in a few more! If you feel like watching a couple of men in their prime, playing music from their youth, you're welcome to join. Our party is your party - and we cannot do it without you."
Radio BOB! present this tour which will visit the following seven German cities in October. Party On!
03 OCT 2019 - Leipzig (DE) Werk 2
04 OCT 2019 - Braunschweig (DE) Westand
05 OCT 2019 - Kiel (DE) Die Pumpe
10 OCT 2019 - Wiesbaden (DE) Schlachthof
11 OCT 2019 - Karlsruhe (DE) Substage
12 OCT 2019 - Cologne (DE) Essigfabrik
19 OCT 2019 - Coesfeld (DE) Fabrik
Tickets can be found here: https://metaltix.click/Clawfinger2019
Presale links for all events are available on the Seaside Touring web site: www.seaside-touring.com/tours
Links to CLAWFINGER: www.clawfinger.net / www.facebook.com/clawfinger.net