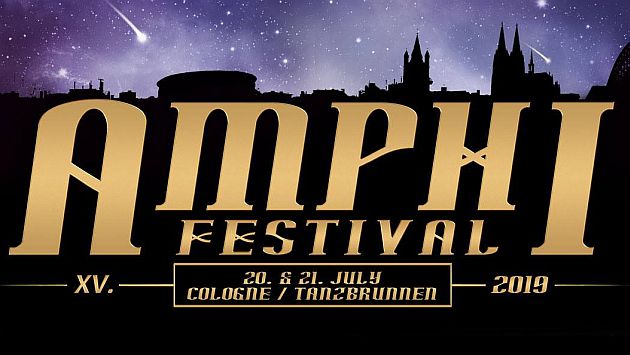 Tanzbrunnen, Cologne, Germany
20th & 21st July 2019
Amphi Festival 2019 with In Extremo, Nitzer Ebb, Projekt Pitchfork, Blutengel, White Lies, Hocico, Lord of the Lost, Unzucht, Coma Alliance, Das Ich, Faderhead, Haujobb, The Beauty of Gemina, Agent Side Grinder, Holygram, Seadrake and many more

The shores of the river Rhine in Cologne are once again calling for us this summer. End of July is Amphi time! Since 2005 the two-day festival has been luring dark music lovers from all around with a high-class, diverse, international line-up ranging from Synth Pop to Industrial and Post Punk to Dark Rock. Traditional and iconic artistes share the stage with modern and rising acts promising a multi-coloured black celebration at the "dancing fountain", the Tanzbrunnen, in Cologne.
We may look forward to a fiery and multi-instrumental Medieval Rock show by IN EXTREMO, an old-school electronic fire by NITZER EBB, a Goth Pop gig presented by Chris Pohl and Ulrike Goldmann of BLUTENGEL, a wicked Electro blast by energy-laden HOCICO from Mexico and also PROJECT PITCHFORK, awesome Dark Rock at full force delivered by the German bands LORD OF THE LOST and UNZUCHT, great and diverse Synth Pop by SEADRAKE and FADERHEAD, unique Post Punk by HOLYGRAM, one-of-a-kind tunes by the COMA ALLIANCE, the joined project of Adrian Hates from DIARY OF DREAMS and Torben Wendt of DIORAMA, melancholia at its finest and musical artistry by Swiss-based combo THE BEAUTY OF GEMINA, and much, much more.
Festival Line-Up (in alphabetical order)

Saturday, July 20:

AGENT SIDE GRINDER, ASH CODE, BLUTENGEL, CHROM, DIVE, ERDLING, HAUJOBB, HEARTS OF BLACK SCIENCE, HENRIC DE LA COUR, HOCICO, LÂME IMMORTELLE, LOGIC & OLIVIA, LORD OF THE LOST, MASSIVE EGO, NITZER EBB, PINK TURNS BLUE, SAMSAS TRAUM, SEELENNACHT, SOLITARY EXPERIMENTS, THE CASSANDRA COMPLEX, UNZUCHT
Sunday, July 21:

COMA ALLIANCE, CRYO, DAS ICH, FADERHEAD, FEUERSCHWANZ, FiX8:SëD8, HELL BOULEVARD, HOLYGRAM, IN EXTREMO, JäGER 90, JANUS, NACHTMAHR, OST+FRONT, PROJECT PITCHFORK, RABIA SORDA, SCHATTENMANN, SEADRAKE, SPARK!, THE BEAUTY OF GEMINA, WELLE:ERDBALL, WHITE LIES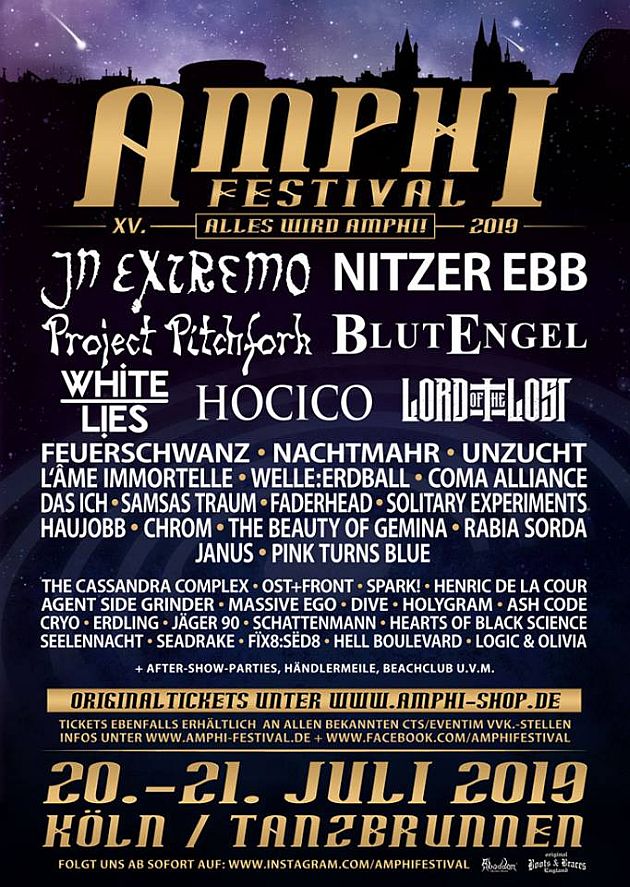 The final running order is not set yet and will be announced in time before the festival.
Amphi stands for musical extravaganza for all Electro and Dark Rock lovers taking place around the open-air Main Stage, the indoor venue Theatre and aboard the MS RheinEnergie. You may also relax and take a break at the popular beach club "KM 689" or have a drink at the mead lounge at the fountain. Another hot spot you also don't want to miss is the gothic-market for a stroll and some shopping. And of course there will be some signing sessions to meet and greet your favourite artists.
Opening Events

The special opening event "Call The Ship To Port" is taking place for the seventh time this year. On July 19 Europe's biggest domestic event ship, the MS RheinEnergie, will take 1,333 guests on a boat trip across the Rhine together with three exclusive live-acts to kick of the Amphi-weekend: MESH, SOLAR FAKE, and DIORAMA will make this cruise memorable, that is for sure. The event is already sold out, so don't miss Amphi's pre-party to hit the dance-floor. Doors are at 10pm and the roof of the Theatre will be raised by this stellar DJ line-up:
ADRIAN HATES (DIARY OF DREAMS, COMA ALLIANCE)
DANIEL MYER (HAUJOBB, ARCHITECT, LIEBKNECHT, COVENANT)
ERK AICRAG (HOCICO, RABIA SORDA)
MSTH (ELECTRONICDANCEART)
Official pre-party tickets (pre-sale 6.60 €) are available now at Amphi Shop, www.amphi-shop.de, at all nationwide CTS/EVENTIM box-offices, online at
www.eventim.de
, www.oeticket.com, www.ticketcorner.ch and as PRINT@HOME edition.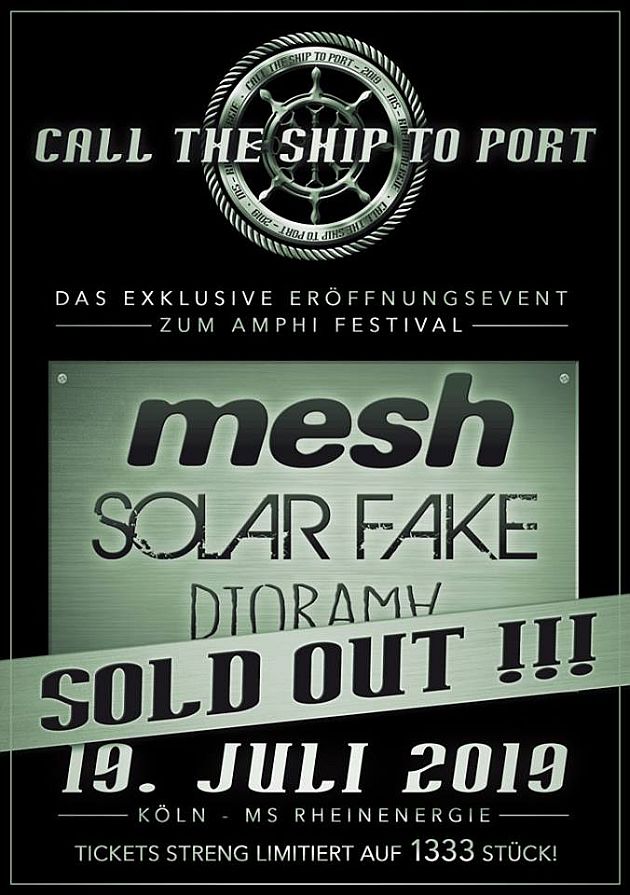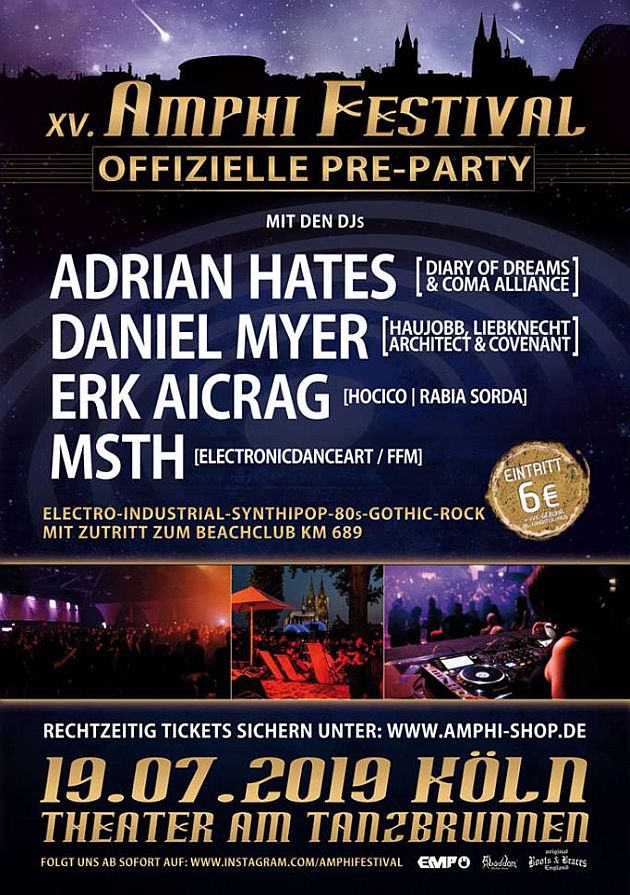 Additional Festival Info

Doors: 10am (both days)
Starts: 11am (both days)
Festival Websites: www.amphi-festival.de / www.facebook.com/amphifestival
Tickets: Weekend tickets are available for 87.00€ (plus fees); one-day tickets for 62.00€ (plus fees); and pre-party tickets for 6.60€ (plus fees) at www.amphi-shop.de (worldwide shipping). All tickets are also available at all nationwide CTS/EVENTIM box-offices, online at
www.eventim.de
, www.oeticket.com, www.ticketcorner.ch and as PRINT@HOME edition.
Facebook Event Amphi Festival 2019: https://www.facebook.com/events/1425706054196407/
Facebook Event Call the Ship to Port: https://www.facebook.com/events/2187419951478226/
Facebook Event Official Pre-Party: https://www.facebook.com/events/980000285723747/
Playlists: SPOTIFY at spoti.fi/2QB72tp / YOUTUBE at bit.ly/2FkNtUO / DEEZER at bit.ly/2Rn6igP