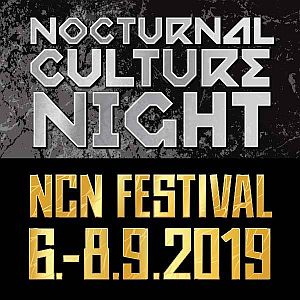 Kulturpark, Deutzen, Germany
6th to 8th September 2019
NCN 14 with She Past Away, Joachim Witt, Leather Strip, Faderhead, In Strict Confidence, Wayne Hussey, Clan Of Xymox, Atari Teenage Riot, Pink Turns Blue, Placebo Effect and many more

Every year in the mid of September when the time for outdoor festivals is slowly coming to an end, this gem of a festival awakens in the romantic area of Kulturpark Deutzen (Cultural park in Deutzen, close to Leipzig in Eastern Germany). Hidden from the outside by all the trees it is calling the visitors for a long weekend of music discoveries and celebrating old and new music projects.
Though NCN is one of the smaller festivals, the program is more than diverse. There are all in four stages. You'll follow the paths from the park to find them, passing by old tiny houses, beautiful weeping willow trees, the dark lifestyle market or chill-out areas with a wide gastronomic offer from Langos, to coffee and alcoholic beverages, French fries, Mexican and traditional German food, sweets, vegetarian and vegan options and many more.
Very special about NCN is that the organizers don't care much about trends, but invite bands and artists of all the different kinds to the festival. From 80ies legends to almost unknown or forgotten artists to newcomer bands and many of the popular names are also showing up, of course. The genres are as diversified as the decades that they come from. From Post Punk, to Dark Wave, 80ies Pop, Synth Pop, Goth Rock, Metal to Indie and Electro - you will find all the shades of dark and colourful music here. Beside of music, there are readings, the mentioned markets and parties that are making the weekend perfect.
Line-up per 12th March 2019 in alphabetical order

A Projection, Actors, Atari Teenage Riot, Black Nail Cabinet, Clan Of Xymox, De/Vision, Desperate Journalist, Faderhead, Heaven 17, In Strict Confidence, Joachim Witt - Bayreuth 1 Show -, Leather Strip, Lizette Lizette, Minuit Machine, Parzival, Pink Turns Blue, Placebo Effect, She, Past Away, Six Comm, Wayne Hussey (The MIssion)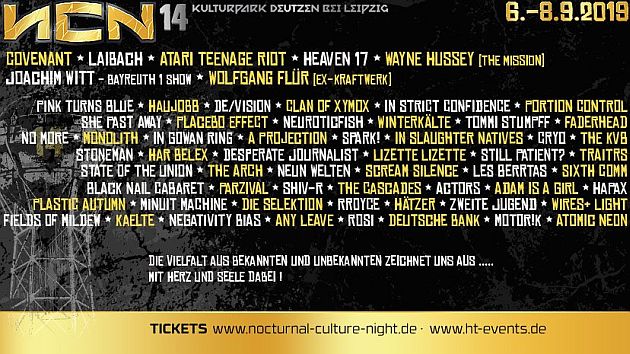 Tickets

For the NCN 2019, there will be provided a limited number of original tickets which can be ordered only via the NCN homepage. As in previous years, original tickets are provided for different ticket categories:
1-Day Tickets for Thursday (warm-up party) each 12€
1-Day Tickets for Friday, Saturday, or Sunday each 48€
Festival Tickets including Camping: 79€
Festival Tickets Kids including Camping: 45€
Festival Tickets without Camping: 74€
Festival Tickets Kids without Camping: 40€
Parking tickets: 14€
Caravan tickets are already sold-out
Regular tickets are available online the following ticket shops like
Eventim
and via https://www.ht-events.de/
Further Information is available at: http://www.nocturnal-culture-night.de