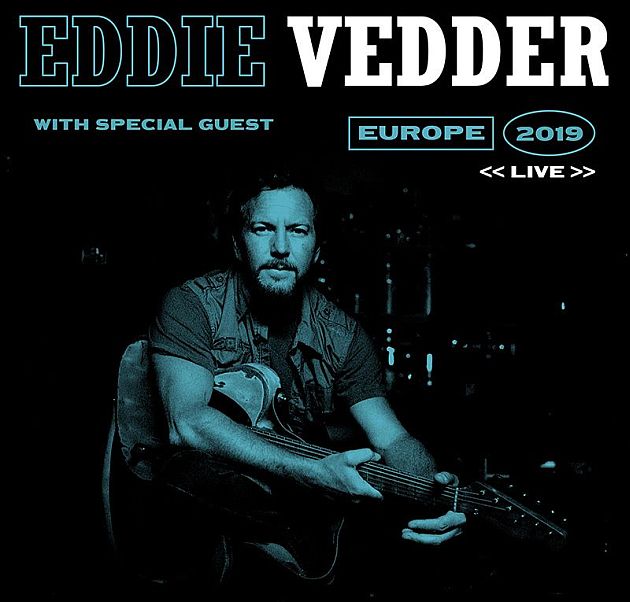 Mitsubishi Electric Hall, Düsseldorf, Germany
30th June 2019
Eddie Vedder - Europe 2019 Live Tour

EDDIE VEDDER announced that he will perform a series of European concert dates in June and July. The tour will take the lead singer of Pearl Jam to Berlin and Düsseldorf. These concerts won't only offer a unique chance to see one of the greatest singer/ songwriters of recent Rock history in a relatively intimate setting, but also give insights in to what inspires and drives a music legend like EDDIE VEDDER.
EDDIE VEDDER has served as PEARL JAM's frontman since 1990. His debut solo release was the 2007 soundtrack album for the film 'Into the Wild' for which Vedder won a Golden Globe for the song 'Guaranteed'. In 2012, Vedder's sophomore solo album, 'Ukulele Songs', received a Grammy nomination for "Best Folk Album". Vedder was inducted into the Rock and Roll Hall of Fame as a member of PEARL JAM on April 7, 2017.
Tickets for EDDIE VEDDER will exclusively be sold personalized. Personalized means, that every single ticket is bounded to one person who is mentioned by name on it. There will be a special limitation of max. 4 tickets per person. Personalization of tickets as well as the limitation of the number of purchasable tickets takes place for causes of fairness and to avoid a secondary ticket market on which tickets often are offered to excessively inflated prices. Through this special and conscious regulation of pre-sale all fans should been given the opportunity to purchase tickets at fair prices. The official online ticket pre-sale is handled exclusively by tickets.de. All other ticket providers offering tickets for sale are NON-AUTHORIZED sellers.
Additional Concert Info

Doors: 18:00
Start: 20:00
Ticket sales will start on Friday, March 22nd at 10 am CET via tickets.de. Ticket prices will range between 89.40 and 111.40 EUR
More Info: https://www.mitsubishi-electric-halle.de/events-tickets/eddie-vedder/