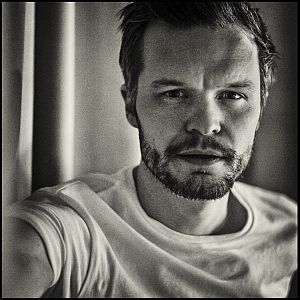 E-Werk, Cologne, Germany
7th June 2019
The Tallest Man On Earth

Ironic artist names are usually found more in the Punk scene or in many cases they suggest artistic inadequacies - in Kristian Matsson (*April 30, 1983) aka THE TALLEST MAN ON EARTH - as expected - both do not apply.
The Swedish musician was already on stage at the age of 15 and received a kind of noble title and career boost in 2008 for his debut album, 'Shallow Grave', from Pitchfork. A comparison to BOB DYLAN was mentioned there, and this comparison still accompanies him more than 10 years after this release.
In April 2010 the album 'The Wild Hunt' followed and marked a premature climax of his young career. One of the best folk albums of the new decade was followed by 'There's No Leaving Now' in 2012 and with 'Dark Bird Is Home' in 2015. Latter album caused criticism among the fans. More experimental approaches, drums and electric guitars - for many this change of style didn't work. Four years later, in April 2019, TTMOE released the album 'I Love You. It's a Fever Dream' and reflects on his own known strengths. A time travel back to 2019 - no further development, but a lot of nostalgia and simply a good Folk album.
The albums make up one half, the live show the other if you want to understand TTMOE as an artist. Between intimate atmosphere, perfect crowd-handling and a healthy pinch of humour he has developed into one of the absolute live highlights of the folk scene. At first he proved this as support act of Bon Iver, but now the comparison to Bob Dylan is drawn much more.
Tour Dates Germany

Tuesday, June 4, 2019 | Hamburg, Laeiszhalle
Wednesday, June 5, 2019 | Berlin, Tempodrom
Friday, June 7, 2019 | Cologne, E-Werk
Saturday, June 8, 2019 | Munich, Circus Krone
Tickets:
Eventim
Additional Concert Info

Doors: 19:00
Start: 20:00
Tickets: are available from EUR 36.90 via
Eventim
More Info: http://www.schoneberg.de/konzerte-shows/kuenstler/details/the-tallest-man-on-earth.html
More on
The Tallest Man On Earth
Photo credit: Peter Eriksson