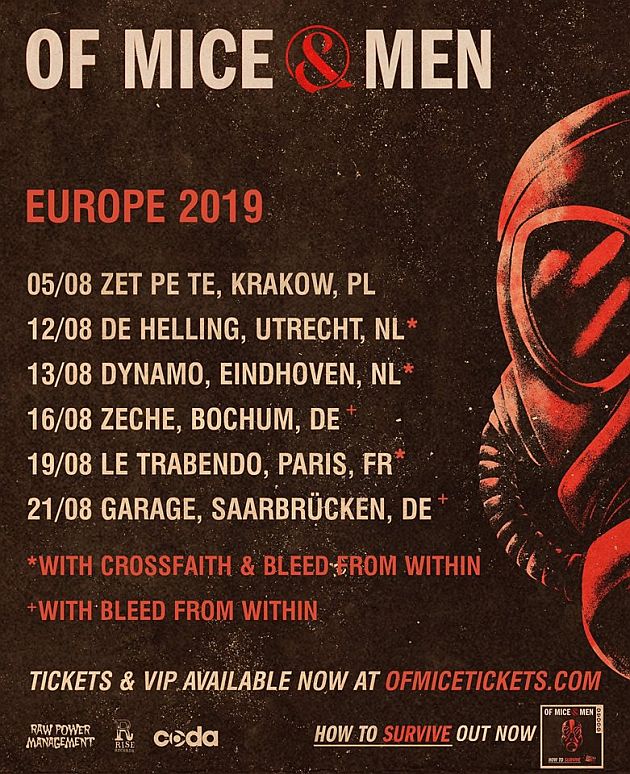 Zeche, Bochum, Germany
16th August 2019
Of Mice & Men - European Tour 2019 - Special Guest: Bleed From Within

The history of the band OF MICE & MEN, founded in California in 2009, resembles a roller coaster ride of emotions and internal band tension. Not many formations look back on such a turbulent history in terms of style, line-up and internal conflicts. All this didn't prevent the rock band between Post-Hardcore, Metalcore and Nu Metal, which only shrunk to a quartet at the end of last year, from a remarkable success in their home country. Their third album, 'Restoring Force' released in 2014, climbed to number 4 in the US billboard charts and also recorded the greatest international successes in their career to date.
The band then went on an almost endless world tour and released their fourth album 'Cold World' in September 2016, which also climbed into the top 20 of the US charts and at the same time marked the exit of their former singer Austin Carlile. January 2018 saw the release of 'Defy', the long announced first album without Carlile, whose frontman role is now taken over by bassist Aaron Pauley. As part of another European tour of the new album, OF MICE & MEN will also be coming to Germany for two more concerts, with stops in Bochum and Saarbrucken.
In autumn 2009 the self-titled debut album was released, whose release had to be postponed for several months after Hacker had paralyzed their homepage. Just one of countless incidents that made it difficult for the band to work continuously. The album turned out to be a success, rising to #10 in the US Hard Rock charts and #3 in the US Heatseekers charts, inviting them to numerous US tours with bands like ALESANA, FINCH, BLESSTHEFALL, WE CAME AS ROMANS, PIERCE THE VEIL and AUGUST BURNS RED. They were also invited to the VANS Warped Tour for the first time in 2010, where they have participated again almost every year since then.
In 2010 OF MICE & MEN wanted to return to the studio to record their second album. A heart operation with Carlile and the departure of Jaxin Hall slowed them down, however, with the replacement singer Jerry Roush they toured further. After Carlile's return they went straight into the studio. For 'The Flood', which was released in August 2011, OF MICE & MEN were selected in 2012 for a Kerrang! Award nominated. Since then the band has toured around the globe, earning them a Kerrang! Award in 2013. Awards as "best live band".
This was followed by two more successful worldwide albums in constant line-up, consisting of Carlile, guitarists Phil Manansala and Alan Ashby, bassist Aaron Pauley and drummer David Arteaga, before Carlile left the band due to a chronic illness. Since then, OF MICE & MEN have continued as a quartet, Aaron Pauley taking on the role of lead vocalist for the first time on the fifth album 'Defy' released in January 2018, which, like the three pre-release singles, demonstrates the power and urgency inherent in the band's second era.
Additional Concert Info
Doors: 18:30
Start: 19:30
Tickets are currently available for 29.50 EUR via
Eventim
More Info: http://zeche.net/konzert.php?nummer=6
More on
Of Mice & Men
and
Bleed From Within