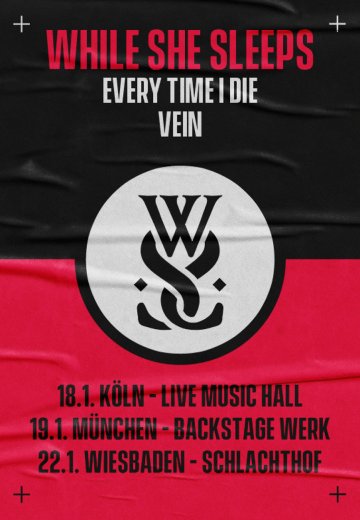 Live Music Hall, Cologne, Germany
18th January 2020
While She Sleeps - European Tour 2020 - Special Guests: Every Time I Die, Vein

With four internationally acclaimed albums, the British quintet WHILE SHE SLEEPS has established itself internationally as a major force in Metalcore. With artfully composed, enormously powerful and progressive songs, the band from Sheffield defines how modern Metalcore has to sound today. From Europe to Japan, from Australia to the USA, worldwide sold out tours provide the proof. After a highly euphoric German tour in spring, WHILE SHE SLEEPS will come back to us for three shows in Cologne, Munich and Wiesbaden between January 18th and 22nd, 2020. The special guests are EVERY TIME I DIE and VEIN on all three dates.
Their fourth long-player 'So What?' was released on March 1st. It once again demonstrates the ambitious progression of WHILE SHE SLEEPS with many new style nuances and even surprising excursions into electronic sounds - and at the same time advanced to become their biggest chart striker to date in almost all European nations. This is also the case here in Germany, where the British entered the top ten of the German album charts for the first time with this album. At the beginning of 2010 the first EP 'The North Stands for Nothing' was released, and there shouldn't be many bands that go on several European tours with just a handful of songs and are even invited by BRING ME THE HORIZON on a US tour.
Their debut album 'This Is the Six' was released in 2012, it became a chart success and was awarded several times. At the same time WHILE SHE SLEEPS went on an international festival tour in summer and soon played at all the major open airs of the world. They were invited twice to the VANS Warped Tour, toured several times through Europe and the USA and since the second album 'Brainwashed' also regularly in Asia and Australia. Since their third album 'You Are We', which was completely financed by their fans via crowd funding, WHILE SHE SLEEPS are also among the top leagues of contemporary metal in the USA. The band thanked them for it with even more concerts and an album that is even clearer and more compelling in all respects. With the release of their new album 'So What?' the success story of the Sheffielders continues consistently.
An additional incentive for visiting their uncompromisingly energetic live shows can be found in the exciting special guests of the upcoming dates: Two US-American bands from the East Coast, who could hardly interpret the genre Metalcore more differently - While the New Yorkers EVERY TIME I DIE in more than two decades and on eight albums earned themselves a worldwide reputation as the unbeaten kings of "Southern Rock Metalcore", the Boston-born VEIN add uncompromising Hardcore punk, Drum'n'Bass and sampled horror film soundtracks to the genre at up to 200 live concerts per year. So you can expect that Cologne, Munich and Wiesbaden will be reduced to rubble at the beginning of the new year.
Additional Concert Info

Doors: 18:30
Start: 19:30
Tickets are available for EUR 41.95 via
Eventim
More Info: https://livemusichall.de/while-she-sleeps-|-special-guests-every-time-i-die-+-vein.1617.html
More on
While She Sleeps
,
Every Time I Die
,
Vein