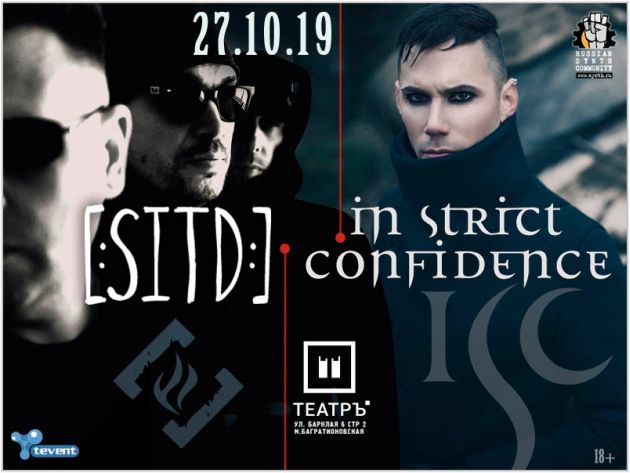 Club Theatre, Moscow, Russia
27th October 2019
In Strict Confidence (ebm / darkwave, Germany) & [:SITD:] (dark-electro / ebm, Germany)

IN STRICT CONFIDENCE is a German electro-industrial band, who conquered European underground clubs in 1999 with their first hit 'Industrial Love'. Listening to their rich discography today a listener might find quite straight forward danceable EBM-tracks as well as epic electro-gothic, complicated experimental albums, recorded together with HECQ, influences of dub-step and even 'Morpheus' with fragment of a poem 'To Dream' by the most beloved Russian poet Alexander Pushkin. However, IN STRICT CONFIDENCE managed to keep through the time and experiments their main recognizable elements and bring both, old and new tracks to the common denominator at their concerts.
[:SITD:] are the masters of industrial dance floors, who for decades inflame underground clubs and huge festivals with their crushing beat and machine guns-like bass on the edge of dark-electro and EBM. Mechanically accurate sound, impartial rhythmical constructions and catchy synthesizer melodies build up perfect decorations of the dark anti-utopian future, while the stinging vocals proclaim disagreement with the path the modern society has chosen. [:SITD:] are back with their new album 'StundeX' and best-of from their discography.
Event on social Networks: https://www.facebook.com/events/309688636391246/ / https://vk.com/sidtisc
Tickets in pre-sale*

http://www.muzzbilet.ru / http://www.ponominalu.ru / http://www.concert.ru / http://popmarket.ru
Dance floor from 2,500 Rub
VIP from 3,500 Rub (only on http://www.muzzbilet.ru)
In Moscow:
Zig-Zag (subway 'Kitay-Gorod', B. Spasoglinishchevskiy per., 9/1, build. 10);
U dyadi Bori (subway Kuznyetky Most, ul. Rozhdestvenka, 6/9)
MAXIMUM VINYL (subway 'Baumanskaya', ul. Olkhovskaya, 14/5, daily 14:00-21:00)
*The organizers are not responsible for the validity of the tickets sold from unauthorized sources.