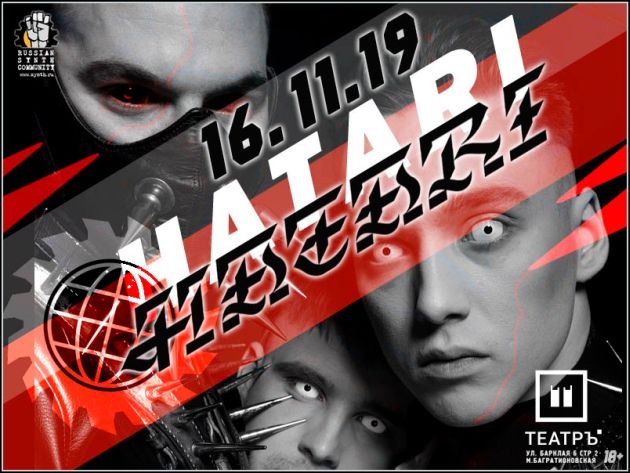 Theatre Club, Moscow, Russia
16th November 2019
Hatari (synth-punk / dark-electro, Iceland)

Virus HATARI conquered the whole planet. This is not just another electro-industrial band. They came from a small Northern country to wake up the world. Their name comes from the Icelandic word "hata" - "hatred". Each and every performance of the band is an act of art and a harsh proclamation of a certain point of view, which translated into their provocative appearance, noisy mix of dark-electro, EBM and synth-punk, and lyrics in Icelandic full of protest messages. The musicians question the well-known values, their vision of the future is pessimistic, and they protest the capitalism system. There is no cure to treat the illness of the modern society, but there is music to handle the accumulated inner hatred by transforming it into a dance!
HATARI about themselves: "HATARI is a political multimedia project which aims to take the lid off the relentless unfolding scam that is everyday life. We cannot change things but we can unveil the anomie of neoliberal society, the pointlessness of every minute spent in the futile race, and the low price for which man now sells himself ever more blatantly. We can scream at our own impotence, scream at our collective sleepwalk through routine, and implore our audience to unite, shoulder to shoulder, and dance. Dance, or die. HATARI represent a considered reflection on hope and hopelessness, power and repression, of image, individualism, despotism, exposing the contradictions that arise when everyone is embedded within the same system and struggling to fight against it. We are HATARI."
They appeared out of nowhere back in 2016 at the Iceland Airwaves Festival stage and shocked the public with their powerful show, aggressive synthesizers sound and a contrast vocal duet: animal roars of Matthías Haraldsson and clean high voice of Klemens Hannigan. This year HATARI shook the whole world by their appearance among the "Eurovision" contestants. They played song 'Hatrið mun sigra' ('Hatred will win'), and accompanied it by provocative freak-show with flames of fire, BDSM-harnesses, chains, latex, spikes and a huge hammer hitting a metal model of the globe. Millions of ordinary people froze in fear in front of their TV-sets, trying to contemplate what is going on. However, among those, there were enough people, who were able to appreciate the beauty of the performance, which brought HATARI to the Top-10. The history has been made in front of our eyes: right now HATARI is marching through the European dance floors and inviting everybody to join them.
Event on social networks: https://vk.com/hatarimoscow /https://www.facebook.com/events/334883630544347/
Tickets in pre-sale*

http://www.muzzbilet.ru / http://www.ponominalu.ru / http://www.concert.ru / http://popmarket.ru
Dance floor from 1,800 Rub
VIP from 3,500 Rub (only on http://www.muzzbilet.ru)
In Moscow:
Zig-Zag (subway "Kitay-Gorod", B. Spasoglinishchevskiy per., 9/1, build. 10)
U dyadi Bori (subway Kuznyetky Most, ul. Rozhdestvenka, 6/9)
MAXIMUM VINYL (subway "Baumanskaya", ul. Olkhovskaya, 14/5, daily 14:00-21:00)
*The organizers are not responsible for the validity of the tickets sold from unauthorized sources.