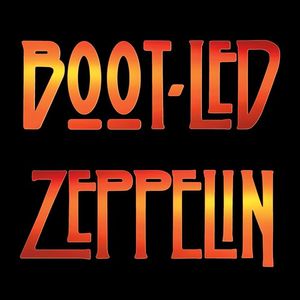 Everybody knows the British rock band LED ZEPPELIN that was founded in 1968 and sold more than 300 million albums. They were the most successful band at all! Founding members were Robert Plant, Jimmy Page, John Paul Jones, and John Bonham. After their broke up in 1980 because of the death of John Bonham, Raff Achour (alias Jimmy Page) wanted to keep LED ZEPPELIN alive, and in 1995, together with James Hogg he founded his own band, BOOT LED ZEPPELIN.
In 1997, they went on tour for the first time, and played their first gigs in England. After James Hogg said goodbye to the band for private reasons, Raff Achour had only one idea: going on with the band. He hired a new singer, and BOOT LED ZEPPELIN toured again. The halls became bigger and bigger, and the first shows were sold out. Television took notice of BOOT LED ZEPPELIN, and they got the great opportunity, to play a concert at the car park during the concert of the original band.
2007 was the year of a benefit concert at The O2 in London in honor of the founder of Atlantic Records and co-discoverer of LED ZEPPELIN, Ahmet Ertegün, who died in 2006. While the original band was on The O2 stage with the son of John Bonham as drummer, Raff Achour played outside at the car park with his band BOOT LED ZEPPELIN and made thousands of people partying.
In 2020, Boot Led Zeppelin come to Germany for 13 concerts, and they will perform songs like 'Stairway to Heaven', 'Whole Lotta Love', 'Immigrant Song', and 'Good Times Bad Times'.
Tour Dates

March 11, 2020 Flensburg – Deutsches Haus
March 21, 2020 Munich – Technikum
March 12, 2020 Kiel – Sparkassen Arena
March 22, 2020 Halle – Gerry Weber Event Center
March 14, 2020 Lübeck – Kolosseum
March 24, 2020 Bochum – RuhrCongress
March 15, 2020 Berlin – Huxleys Neue Welt
March 26, 2020 Coesfeld – Bürgerhalle
March 16, 2020 Leipzig – Haus Leipzig
March 27, 2020 Cologne – E-Werk
March 18, 2020 Meschede – Stadthalle
March 28, 2020 Düsseldorf – Stahlwerk
March 20, 2020 Ravensburg – OberschwabenKlub
Tickets:
http://bit.ly/BootLedZeppelin
More on
Led Zeppelin