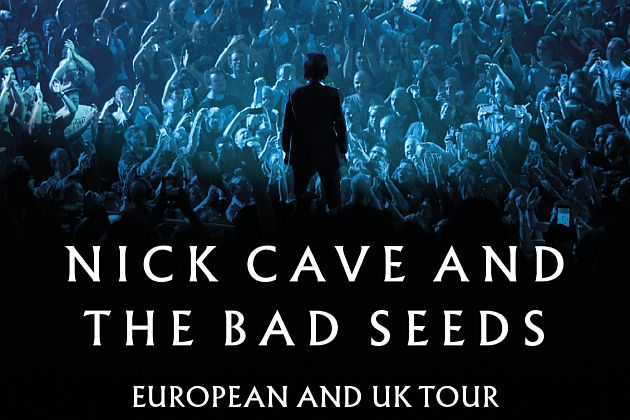 NICK CAVE & THE BAD SEEDS announced a tour through Europe and UK in spring next year. Well known for being one of the best live acts, the band will enter the stages in 19 countries, and four shows take place in Germany.
Attention: Due to the Corona situation, this Tour is postponed from spring 2020 to spring 2021!
About their live on stage qualities

"Pleasant and unexpected triumph" - The Guardian
"Tense and thunderous at some times, loving and cathartic at another time. It's masterful." - The Independent
"An extraordinary answer to the unimaginable" - The Telegraph
NICK CAVE & THE BAD SEEDS' seventeenth album 'Ghostseen' was digitally released on October 4, and so far, it is called their best record ever. On Friday, November 8, vinyl records and CDs go on sale. For pre-order, visit nickcave.com/ghosteen.
About 'Ghosteen'

"Impressive double album that set against despair, empathy and belief. It should not be a surprise, that it is good as it is… nevertheless, while listening 'Ghostseen', there is dismay." - The Guardian
"Fantastic magnificence" - The Times
"Great in design and enriched with rare beauty and profound, poetic lyrics." - The Sun
"A masterpiece of melancholy" - Rolling Stone
"An extraordinary album overflowing by agony, honesty and silent miracles." - The Independent
"Nick Cave never was in better shape, and 'Ghosteen' is his greatest achievement." - The Line of Best Fit
"With his new album, NICK CAVE conjures a profound and strong sense for miracles." - The Quietus
German Tour Dates

Apr 29, 2021 Cologne - Lanxess Arena (Postponed from May 17, 2020)
May 07, 2021 Hamburg - Barclaycard Arena (Postponed from May 18, 2020)
May 08, 2021 Berlin - Mercedes-Benz-Arena (Postponed from May 27, 2020)
May 19, 2021 Munich - Olympiahalle (Postponed from Jun 6, 2020)
Ticket sale starts on Friday, October 25, 2019 at 10:00 a.m. via nickcave.com.