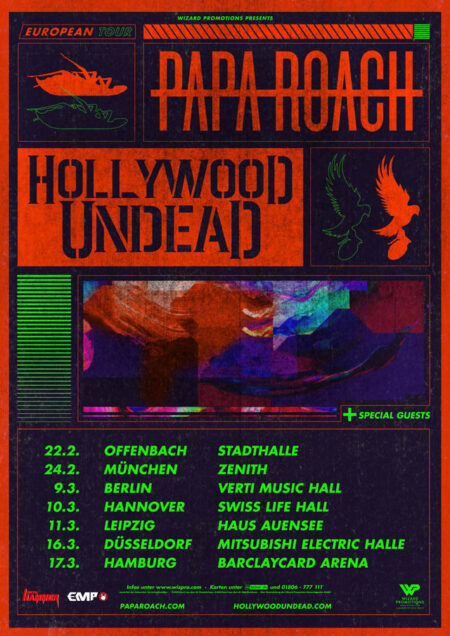 Attention: Due to the Corona pandemic, this event is cancelled!
PAPA ROACH have something to celebrate, and that's what they will do during their spring tour in Germany. On their latest album 'Who Do You Trust?', the guys from California are creative as never before, and furthermore, the legendary debut album 'Infest' turns 20 years old. In spring 2020, there will be seven concert dates at big venues in Offenbach, Munich, Berlin, Leipzig, Hannover, Düsseldorf, and Hamburg. The Rock Rap Metal heads of HOLLYWOOD UNDEAD will join the party.
Many things have progressed, since PAPA ROACH came over the international Rock scene with power. At that time, the band achieved the platinum-awarded breakthrough with the major label debut album 'Infest'. Songs like 'Last Resort' and 'Broken Home' became classics and the soundtrack of an era.
Since then, PAPA ROACH never stood still for stylistic reasons: their current and now tenth album 'Who Do You Trust?' shows the band around singer Jacoby Shaddix and guitarist Jerry Horton from a multifaceted side that is hard rocking, exorbitantly catchy, experimentally daring, and even electronic. The German fans made the album their number four of the charts. For the upcoming shows, Shaddix promises a successful mixture of all facets: "In equal parts, we will look back to the past, but also the new material is not missing out. Right now, we will play live about five or six new songs. This will become a quite varied rock show!"
Celebrate your success.
The announced tour dates are of a special significance for PAPA ROACH. "For us, this tour is a statement", Shaddix says during a conversation. "Next year is 2020, that means, that we released our first album 'Infest' 20 years ago. With this tour, we will celebrate our successes, but also our failures, because we survived them!"
PAPA ROACH belong to the most diligent Rock'n'Roll travelers on the planet. Not uncommon, they played more than hundred shows in a year. Meantime, there is the reputation of being a magnificent, thrilling live band: "On tour, I am able to comprehend in a visual and emotionally way, how our music effects the audience", Shaddix explains. "I think it's important to go on stage and share this moment will all the people. For me, it is the purest music experience, when the vibrations inside the room shake your body and emotions fly through the air within your reach, so everyone feels connected with the songs."
Exploring the cities. By bicycle.
PAPA ROACH have a special bond with Germany, as Shaddix says: "Sure, that's why we come back again and again! Really, we love Germany, we love the fans, and we love the energy. The cities are great, it's really a pleasure. We come here for years, and every time I make new discoveries. I like to bring my bicycle and explore the cities, instead of just arrive, play a show and go to the after-show party. Touring is more for me than just that."
This year, PAPA ROACH performed in the U.S., in England, in Eastern Europe, and at several festivals. Surprises for the fans are usual practice, and the latest one is a cover version of the THE PRODIGY classics 'Firestarter' added to the set list. Shaddix explains the reason for that: "I am a big THE PRODIGY fan for so many years. It's a great way to celebrate Keith Flint." THE PRODIGY lead singer Flint died unexpectedly on March 4, 2019. "He was the real Firestarter."
PAPA ROACH spark off the fire of a thrilling live show over and over again. That's their specialty, that's with what they are traveling the planet for two decades now. They sold 20 million copies of their albums; there are more than two million streams, six number one singles in the U.S., and two Grammy nominations. Shaddix, Horton, bassist Tobin Esperance, and drummer Tony Palermo bundle all their energy and sovereignty live on stage. It never gets boring when it comes to PAPA ROACH - there are early classics like 'Between Angels & Insects', middle-aged crackers like 'Getting away with murder', and new hits like 'Elevate'.
A good package
Support for the spring 2020 tour comes from HOLLYWOOD UNDEAD: "For years, we think about touring in this combination. We performed on the same stages at several shows and festivals, but we never were on the road together. We like to come together with bands that share the same taste in music. In this way, we bring the fans together, and both bands can perform in front of them. It's a great opportunity to steel our fans, but it's the same for us in return." Additionally, a third band is planned to be part of the tour group: "We do not have defined so far, who will be the opener. Some are being discussed, so we have to make the announcement later."
Shaddix' final words to the German audience: "Damn it all, do not miss these shows! Really. They are for all who missed out on our last shows. We now play in bigger halls, so it's the perfect timing to see us."
Ticket providers MyTicket and
CTS Eventim
start their online ticket pre-sale on Thursday, October 31, 2019 at 10:00 a.m. General ticket sale starts on Friday, November 1, 2019 at 10:00 a.m. Get your tickets at www.myticket.de, by phone at +49 (0) 1806 - 777 111 (20 cents/call, mobile max. 60 cents/call), and at all known ticket shops. Information regarding special VIP offers and artist pre-sale here: paparoach.com
German Tour Dates

Feb 22, 2020 OFFENBACH – Stadthalle
Feb 24, 2020 MUNICH – Zenith
March 9, 2020 BERLIN - Verti Music Hall
March 10, 2020 HANOVER - Swiss Life Hall
March 11, 2020 LEIPZIG - Haus Auensee
March 16, 2020 DÜSSELDORF - Mitsubishi Electric Halle
March 17, 2020 HAMBURG - Barclaycard Arena
More on
Papa Roach
and
Hollywood Undead