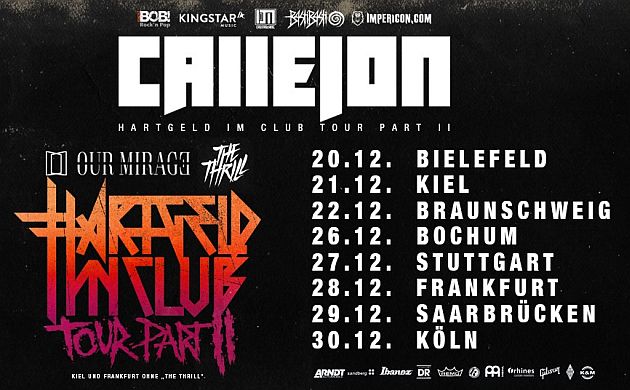 Garage, Saarbrücken, Germany
29th December 2019
Callejon - "Hardgeld im Club" Tour Pt. II - Support: Our Mirage, The Thrill

CALLEJON love to cover songs. For a very simple reason: While most of the bands tried their hand at interpreting foreign and, above all, tried and tested songs with the greatest possible ease right after their foundation and long before their first own three-tone-composition, the five Düsseldorf guys did their own thing right from the start. The logical consequence after the first four albums: Turn the tables. In 2013 they ploughed as KALLEJON - known as the stupid German degenerated brothers of themselves - with a good ruckus and the album 'Man spricht Deutsch' once across the well fertilized German Pop bed to turn the harvest from DIE ÄRZTE to TIC TAC TOE through the metal meat grinder afterwards.
With 'Hartgeld im Club' CALLEJON now blow again to the hostile takeover. But with the same concept? Would be boring. Because CALLEJON never chooses the same path twice anyway, but loves to hit their head and challenge themselves this time it is Rap. Because we remember: With 'Porn From Spain' and the feature of Nico K.I.Z. the band already had a "Deutschrap" connection since 2008 - and with cover-versions of SIDO and FETTES BROT 'Man spricht Deutsch' they already approached Hip-Hop songs.
So why not take a closer look at this huge phenomenon in its presence and antipathy in the Metal context? Why not profit from each other and not bring these two seemingly contradictory genres together? Do not play against each other, but unite in versus mode. 'Hartgeld im Club' is a cover but also a crossover album in the tradition of releases like the 'Judgment Night' soundtrack, this grandiose Rap Metal foundation from 1993, for which HELMET met HOUSE OF PAIN and SONIC YOUTH on CYPRESS HILL. The approach: Recognize and maintain the identity and basic idea of the songs. Is that thing brushed on riot, just weird or does it even have big pants on? And then: march off with large cutlery in exactly this direction.
Beside all the "Deutschrap" cover songs there are also two completely new tracks on 'Hartgeld im Club'. One of them is, of course, 'Porn From Spain 3'. With, of course, K.I.Z. and, yes, correctly read, motherfuckin' ICE-T. A demolition grenade of the finest - and the fulfilment of a BODY COUNT influenced teenager's dream on tape side on top of that. Also there is the title track 'Hartgeld im Club' where CALLEJON is supported by the two rappers PILZ and ANTIFUCHS and shows how diverse and horizon-widening the German rap scene can be. You're welcome to have a look at the live shows of the album.
German Tour Dates
20 Dec 19 - Forum Bielefeld, Bielefeld
21 Dec 19 - Max Night Theatre, Kiel
22 Dec 19 - Westand, Brunswick
26 Dec 19 - Colliery, Bochum
27 Dec 19 - At the Wizemann, Stuttgart
28 Dec 19 - Batschkapp, Frankfurt/Main, Germany
29 Dec 19 - Garage, Saarbrücken
30 Dec 19 - Gloria Cologne, Cologne
Additional Concert Info

Doors: 18:30
Start: 19:15
Tickets: 29.50€ + charges (pre-sale) via
Eventim
Info: https://garage-sb.de/veranstaltungen/callejon/
Facebook Event: https://www.facebook.com/events/1677865625693176/
More on
Callejon