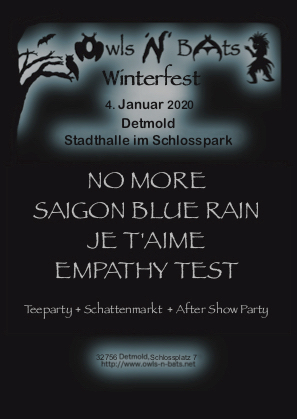 Stadthalle, Detmold, Germany
4th January 2020
Owls 'n' Bats Winterfest 2020 with No More, Saigon Blue Rain, Je T' Aime & Empathy Test

The Owls n Bats Winterfest is a new one-day Indoor Festival for Gothic, Dark, Cold and New Wave, Electronica, Shoegaze, Post Punk, Batcave and Indie Rock and takes place in the Stadthalle Detmold. The Stadthalle is not a faceless and huge multi-purpose hall, but offers a historic ambience right in the centre of Detmold at the "Schlosspark" ("Castle Park").
For the promoters it is a new and exciting venue where concerts on several levels are possible. There will be again the "Schattenmarkt" with arts and crafts and fashion accessories and a subsequent after show party. For the first guests who will be present already at door-opening at 17:00, there will be a vintage tea party in the style of 'Alice in Wonderland'. The line-up of the festival consists of two Paris bands JE T 'AIME and SAIGON BLUE RAIN, as well as EMPATHY TEST from London and NO MORE from Kiel.
Additional festival information

Festival address: Stadthalle Detmold im Schlosspark, Schlossplatz 7, 32756 Detmold, Germany
Visitors: 600
Accessibility: The Stadthalle is good to access and passable, a barrier-free toilet is available.
Doors open: 5:00 p.m. (Schattenmarkt, first guests can join a Vintage Tee Party in Alice in Wonderland style)
Start: 7:00 p.m.
Genre: Electro & Electronica, Shoegaze, Gothic Metal, Darkwave, Coldwave, Goth-Pop, Post Punk, Batcave, and Gothic Rock
Info:
www.owls-n-bats.net
Tickets

Ticket shops to buy the limited tickets (EUR 29.00 incl. legal VAT)
- in Detmold at Buchhandlung Kafka & Co, Krumme Str. 8.
- in Bielefeld at konTicket, Bahnhofstraße 28, 33602 Bielefeld
- in Paderborn at Ticket Direct, Königstraße 62, 33098 Paderborn
Orders via email:
This email address is being protected from spambots. You need JavaScript enabled to view it.
E-Ticket (print@home) available each for EUR 25.00 plus pre-sale fee and transaction charges (depends on type of payment) at the ticket shop the website or at all known Reservix / ADticket ticket shops.
No More (Kiel)

No More - Founded in 1979 as a Punk and New Wave formation to sweep away the 70s. Split up in 1986, after the 80s became too much for them. Returned at the end of 2008 as duo consisting of Tina Sanudakura and Andy Schwarz. They play concerts all over Europe, are more successful than ever before, never rest on their laurels, produced three new albums. With their new, highly praised album 'Silence & Revolt' NO MORE enter new fields: "Pop is the answer" or like Westzeit wrote: "... their new album impressively proves how to develop without denying your own roots." Long ago, NO MORE outgrew their 80s classic 'Suicide Commando'.
They represent their mixture of Post Punk, Pop, and Electronica live all around Europe, their existential 'All Is Well - Senza Macchia" was used as soundtrack for the Tatort TV series (Dortmund episode), and 'Turnaround', the instant classic of the current album, fills the dance floors. "Justifiably it is said: the bee stings at their back. NO MORE saved their best music for their late phase." (Sonic Seducer). In 2019, NO MORE celebrate their 40th anniversary with the compilation 'Love, Noise & Paranoia'. The Musikexpress rated the album with five stars and writes: "The world is dark-grey, mistrust the idyll, melancholy as Pop existentialism." Linus Volkmann explains the album of the week like this: "The sound aesthetics of this band is so icy, that you even freeze in July. The ultimate antithesis to ANNENMAYKANTEREIT."
Watch & listen: Turnaround - https://www.youtube.com/watch?v=aqart8PrlyU
Click: www.nomoremusic.de / www.facebook.com/official.no.more
Saigon Blue Rain (Paris)
SAIGON BLUE RAIN, the Cold Wave band from Paris, consists of Ophelia SBR (vocals, lyrics, synths, programming), Franck SBR (guitar, synths, programming), and live supporter Gilles Facquet (bass guitar). They will perform their third album 'Pink Obsession' that was released on March 1, 2019. Already in 2015, the likeable band played a living room / kitchen concert, and then performed live on the Waldbühne stage at the Owls N Bats Festival in 2016. As part of the supporting programme during a tour of THE BEAUTY OF GEMINA, they attracted new fans. It's the perfect sound for fans of classic Wave that reminds of bands like The Cure or New Order, but there are also influences of Shoegaze and Cold Wave. The voice of Ophelia reminds of COCTEAU TWINS, THE CURVE, or COSMETICS.
Watch & listen: The Unknown - https://www.youtube.com/watch?v=CBbNm8UvfL8
Click: https://www.facebook.com/SBRofficial / http://saigonbluerain.bandcamp.com
Je T' Aime (Paris)

JE T' AIME are a classic Post Punk trio from Paris, the city of love. Their debut album is a varied mixture of Post Punk, Cold and New Wave. Diverse influences from the 80s are skilfully and modern transported into the present, and processed independently. There is a rough version of THE SMITHS, but also of THE CURE, SISTERS OF MERCY, and the pushing sequencer beats of EBM - best conditions for a great show.
Watch & listen: Dance - https://www.youtube.com/watch?v=DeqSDcgy0Nk
Click: https://www.jetaime-music.com
Empathy Test (London)

Empathy Test is a young Electronic Pop band from London. In January 2013, it was founded by Isaac Howlett (vocals, compositions), and Adam Relf (compositions, production). The song 'Losing Touch' was clicked on YouTube more than 520,000 times, and about two million times on Spotify. For live performances, EMPATHY TEST are supported by drummer Christina Lopez and keyboarder Elliott Berlin.
In 2019, EMPATHY TEST played concerts with VNV NATION in Spain and UK, and in Germany, they supported COVENANT for ten performances. Additionally, the played a double headliner tour in the UK with the Canadian Post Punk band ACTORS, and in autumn, they were on tour through the U.S. and Canada together with AESTHETIC PERFECTION. EMPATHY TEST is something for fans of DEPECHE MODE, but despite the catchy melodies, they create their own style, which is sometimes weightless, and sometimes rocking with hypnotic elements paired with dynamic and pushing drums, what then results in an exciting, new sound aesthetics. Tip: Listen to the albums 'Safe From Harm' and 'Losing Touch'.
Watch & listen: Losing Touch - https://www.youtube.com/watch?v=EeBhDARh4Cc
Click: https://www.empathytest.com