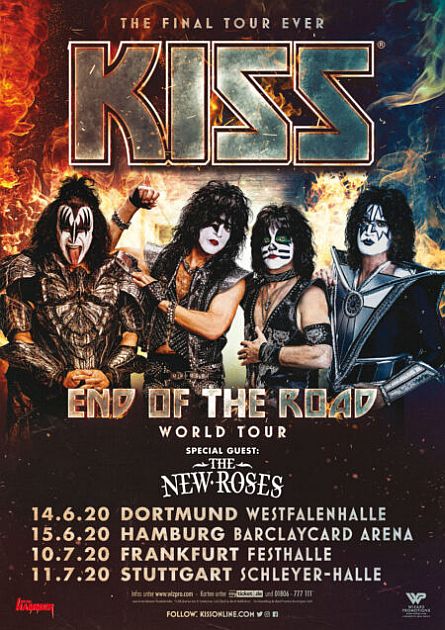 Attention: Due to the Corona pandemic, the tour is postponed from summer 2020 to June / July 2021! Tickets remain valid!
A spectacular goodbye: With their "End Of The Road" World Tour, KISS travel the world for the last time to end their legendary Rock'n'Roll career. That world tour lasts for several years and leads to Germany in summer. Big venues in Dortmund, Hamburg, Frankfurt, and Stuttgart are scheduled. The fans want to party hard - since announcement, more than 35,000 tickets were sold, what means that 80 % of the shows are sold out.
Support act for all shows is the band THE NEW ROSES, currently one of the hottest bands of German Rock'n'Roll. With their album 'Nothing But Wild', right now, the quartet from Wiesbaden entered the Top 10 of the charts, and they were guests at the KISS Kruise twice. It's not their first time on the big stage as support act of KISS, it's just a continuation of their 2019 tour they did together.
The big Rock show

With the "End Of The Road" World Tour, KISS celebrate not less than the big Rock show: with explosions, lasers, a massive stage, and a storm of lights par excellence. The four Rock'n'Roll super heroes fly above the fans, float below the hall ceiling, spit blood and fire, and launch rockets out of their guitars. This is where bassist Gene Simmons, the man with probably the longest tongue in the world, localizes the legacy of his band: "Of course, we created a bunch of good songs and played great gigs, but in particular, we set the bar higher when it came to concerts. It is not enough to just get on stage." KISS not only made music, but history, and for their last goodbye, they will surpass themselves.
Classics fireworks

Above all, Paul Stanley, Gene Simmons, Eric Singer, and Tommy Thayer celebrate that songs for more than two hours, that belong to the basis of an entire genre: "'Rock And Roll Nite', 'Black Diamond', 'I Was Made For Lovin' You' or 'Detroit Rock City'. KISS rely on 24 studio albums, which all are honoured with gold and platinum and were sold more than 100 million times. "We already have some ideas for the set list", says Simmons, "and currently, we play songs from every era, from four decades." No question, the fans will listen to thrilling Rock'n'Roll and hard rocking classics. Mr. Simmons promises: "Our concerts are a party. We want you to be on your feet all the time."
The party ends up loud

KISS draw an unmistakable line under an incredible career, which started in New York City in 1973 and made the band an icon. Today, "Demon", "Spaceman", "Starchild", and "The Catman" are worldwide known for their music. But one they, there must be the unavoidable end: "It's the right time to stop touring", affirms Simmons. "I feel great, the shows are great and very solid, every evening. But we want to retire as long as we are on top. The last concert happens on July 17, 2021 in New York, and then no more shows will take place." Thus, the "End Of The Road" World Tour is a goodbye from German stages, 44 years after the first KISS concert in Germany (on May 18, 1976 in Mannheim as part of the "Destroyer Tour" with the SCORPIONS as support act).
A special concert moment

Since then, nothing has changed the fascination of a KISS show, neither for the fans nor for the protagonists: "One thing always speeds up my heartbeat, namely the moment right before entering the stage. We hear the screaming of the audience, we stand on the platforms right under the ceiling, the curtain falls - and everyone freaks out, because they know that it gets special now."
Rock'n'Rollers, music freaks, and lovers of spectacular concert entertainment - do not miss the dates! You wanted the best, you got the best. The hottest band in the world… on their final tour ever: KISS! Tickets available at www.myticket.de or by phone +49 (0) 1806 - 777 111 (20 cents/call, mobile max. 60 cents/call) and at all known ticket shops. Further information: www.kissonline.com
KISS - End Of The Road World Tour 2020 - German Tour Dates

June 10, 2021 - Dortmund, Westfalenhalle (postponed from June 14, 2020)
June 15, 2021 - Hamburg, Barclaycard Arena (postponed from June 15, 2020)
June 25, 2021 - Frankfurt, Festhalle (postponed from July 10, 2020)
July 8, 2021 - Stuttgart, Schleyer-Halle (postponed from July 11, 2020)
More on
Kiss