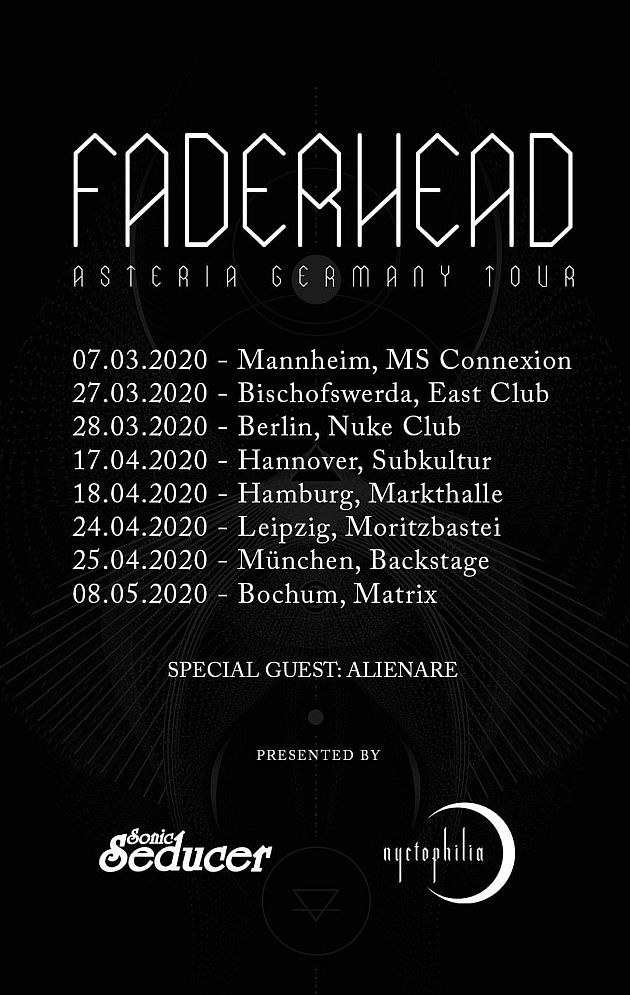 Attention: Due to the Corona crises, this tour is rescheduled. The new dates will take place in 2021! Tickets remain valid!
FADERHEAD released his 10th album 'Asteria' on 4th October 2019, celebrating with an already legendary live release show at the Kulttempel in Oberhausen. 'Asteria' is as dark and diverse as never before while building on the previous work and keeping the remarkable sound of FADERHEAD. From gloomy and slow ballads that spread melancholy like 'Mistakes And Pain' to the dancefloor fillers as they are the trademarks of FADERHEAD - here we can fully rely on 'From His Broken Bones', 'Watching The Watchers', to the Acid Techno inspired song 'The Acid Witch' (editor's recommendation!) and the strong EBM tracks like 'Neophobiac' - the bandwidth is enormous.
The songs appear more grown-up, becoming even more exciting and standing out of the large number of current scene releases as the music and the lyrics are more detailed and creative as never before. An album that is worth to listen to more than once to catch up on all the details. Along with the new songs, also "old classic" hits and rare gems will be presented on the upcoming tour in eight German cities - the kick-off show taking place on 7th March 2020 and the so far last one will be in Bochum on 8th May 2020. We are convinced that every single show of this tour will become a highlight in the concert year of everyone attending.
German Tour Dates

22.01.2021 - Leipzig, Moritzbastei
13.02.2021 - Hamburg, Markthalle
19.03.2021 - Hanover, Subkultur
30.04.2021 - Bischofswerda, East Club
01.05.2021 - Berlin, NUKE Club
08.10.2021 - Bochum, MatrixTickets for all shows: https://faderhead.com/2020 or
Eventim
Info: https://www.facebook.com/faderhead / https://faderhead.com
More on
Faderhead