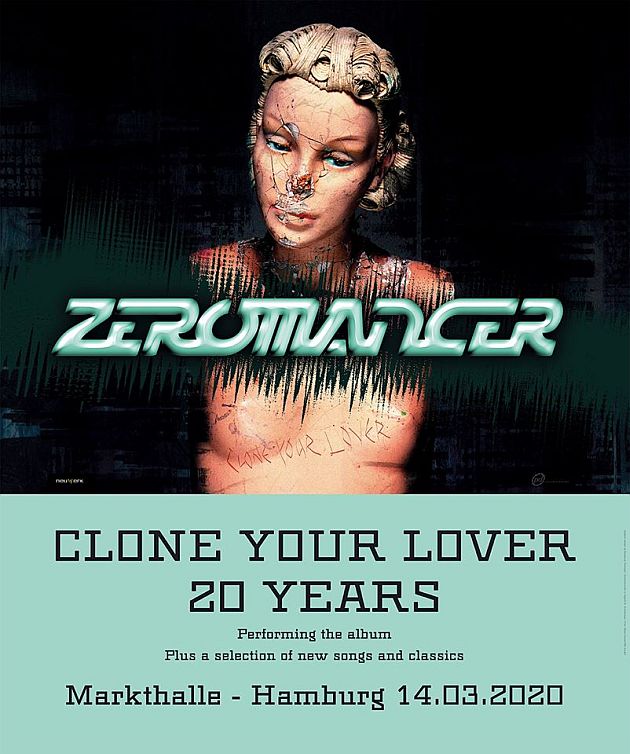 Markthalle, Hamburg, Germany
8th October 2022
Zeromancer - "20 Years Clone Your Lover" - exklusive show in Hamburg 2022 - Support: On The Floor

Attention: Due to the Corona situation, the concert is postponed from Ocotober 2020 to April 2021 further to June 2021 and now October 2022! Tickets remain valid!

20 years ago the debut album 'Clone Your Lover' of the Norwegian Synth Rock combo ZEROMANCER conquered the dance-floors and CD shelves (yes, back in the time when Spotify did not exist yet) and is still an evergreen at the scene parties with the hits like the title song 'Clone Your Lover' or all the other songs we don't want to miss in our playlists - 'Something For The Pain', 'Fade To Black', 'God Bless The Models, 'Houses Of Cards' and so on and so on. For this special anniversary ZEROMANCER are returning back to Germany with a rare headliner show and will perform the whole 'Clone Your Lover' album along with other classics from the band's discography and also new songs from the upcoming album 'Orchestra Of Knives' are promised to be presented for the very first time.


ZEROMANCER are known like no one else for their extremely engaging and energetic live shows that set crowds on fire as just recently while headlining the both editions of the Pluswelt Festival that was also celebrating its 20th anniversary in Oberhausen and Berlin in November 2019. So we can be really excited for this special show that will for sure be a very special journey back in time as well as bring surprises and some exciting insights into the near future. The Post Punk and Dark Wave combo from Hamburg ON THE FLOOR will open the evening. They just recently released their new album 'Breaking Away' on 22nd November 2019.

Additional Concert Info
Doors: 20:00
Start: 21:00
Tickets: from 29.50 € (+ charges, additional shipping) via https://www.livingdead.de/tickets.html and Eventim
Info: https://www.facebook.com/events/422443921773291
Artists: https://www.facebook.com/zeromancerzentral / http://www.zeromancer.com / https://www.facebook.com/floorification / https://www.onthefloor.de

More on Zeromancer and On The Floor