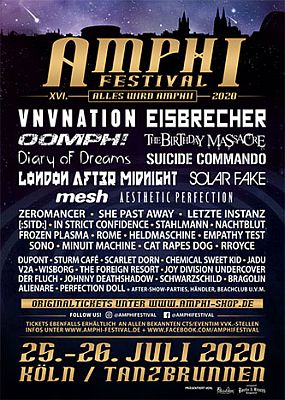 Tanzbrunnen, Cologne, Germany
25th & 26th July 2020
Amphi Festival 2020 with VNV Nation, Eisbrecher, Oomph!, The Birthday Massacre, Diary of Dreams, Suicide Commando, London After Midnight, Solar Fake, Mesh, Zeromancer, Aesthetic Perfection and many more

Attention: due to the Corona pandemic, this event is cancelled! A new Edition will take place in 2021 with possibly equal line-up!
The shores of the river Rhine in Cologne are once again calling for us this summer. End of July is Amphi time! Since 2005 the two-day festival has been luring dark music lovers from all around with a high-class, diverse, international line-up ranging from Synth Pop to Industrial and Post Punk to Dark Rock. Traditional and iconic artistes share the stage with modern and rising acts promising a multi-coloured black celebration at the "dancing fountain", the Tanzbrunnen, in Cologne.
VNV NATION and EISBRECHER will once more be headliners of the festival. THE BIRTHDAY MASSACRE were absent from German stages for quite a while, so it is a big pleasure to welcome them on Amphi Festival, with a new album in their luggage. DIARY OF DREAMS are steady guests at the festival and will play one of their rare German shows 2020 at Amphi since the band is currently working on their new album, promised for autumn this year. ZEROMANCER from Norway also are working on their new album to be out in autumn and before, they will be also guests at Amphi. The mix of Gothic, Wave, Synth Pop, Electronic music and Post Punk surely offers something for anyone.
Festival Line-Up (in alphabetical order)

Saturday, July 25:

ALIENARE, BRAGOLIN, CHEMICAL SWEET KID, DER FLUCH, EMPATHY TEST, FROZEN PLASMA, JOY DIVISION UNDERCOVER, LETZTE INSTANZ, MESH, MINUIT MACHINE, NACHTBLUT, OOMPH!, ROME, SHE PAST AWAY, [:SITD:], SOLAR FAKE, STAHLMANN, THE BIRTHDAY MASSACRE, THE FOREIGN RESORT, VNV NATION
Sunday, July 26:

AESTHETIC PERFECTION, CAT RAPES DOG, DIARY OF DREAMS, DUPONT, EISBRECHER, HELDMASCHINE, IN STRICT CONFIDENCE, JADU, JOHNNY DEATHSHADOW, LONDON AFTER MIDNIGHT, PERFECTION DOLL, RROYCE, SCARLET DORN, SCHWARZSCHILD, SONO, STURM CAFÉ, SUICIDE COMMANDO, V2A, WISBORG, ZEROMANCER

The final running order is not set yet and will be announced in time before the festival.
Amphi stands for musical extravaganza for all Electro and Dark Rock lovers taking place around the open-air Main Stage, the indoor venue Theatre and aboard the MS RheinEnergie. You may also relax and take a break at the popular beach club "KM 689" or have a drink at the mead lounge at the fountain. Another hot spot you also don't want to miss is the gothic-market for a stroll and some shopping. And of course there will be some signing sessions to meet and greet your favourite artists.
Opening Events

The special opening event "Call The Ship To Port" is taking place for the seventh time this year. On July 24 Europe's biggest domestic event ship, the MS RheinEnergie, will take 1,333 guests on a boat trip across the Rhine together with three exclusive live-acts to kick of the Amphi-weekend: FORCED TO MODE, WELLE:ERDBALL, and S.P.O.C.K will make this cruise memorable, that is for sure. CTSTP and Amphi Festival combi tickets are available for 141.00 euros via https://www.amphi-shop.de/en/festivaltickets/.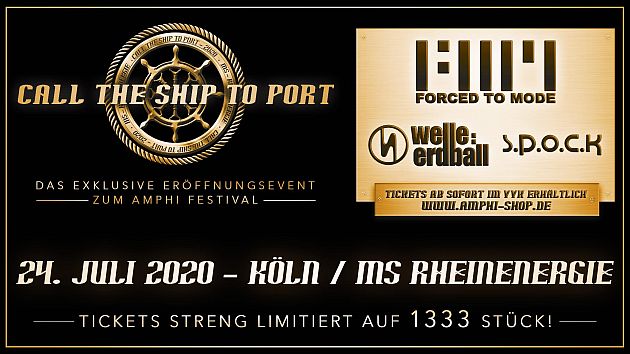 Besides there is the legendary Amphi's pre-party to hit the dance-floor. Doors are at 10pm and the roof of the Theatre will be raised by this stellar DJ line-up:
RONAN HARRIS (VNV NATION)
SVEN FRIEDRICH (SOLAR FAKE | ZERAPHINE)
ELVIS (THE MEMPHIS) + MSTH (ELECTRONICDANCEART)
Official pre-party tickets (pre-sale 6.60 €) are available now at Amphi Shop, www.amphi-shop.de, at all nationwide CTS/EVENTIM box-offices, online at www.eventim.de, www.oeticket.com, www.ticketcorner.ch and as PRINT@HOME edition.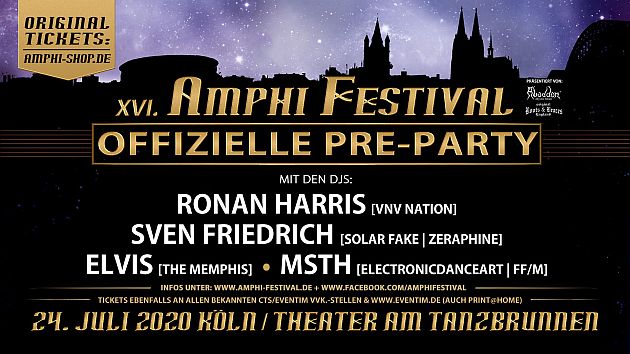 Additional Festival Info

Doors: 10am (both days)
Starts: 11am (both days)
Festival Websites: www.amphi-festival.de / www.facebook.com/amphifestival
Tickets: Weekend tickets are available for 87.00€ (plus fees) and pre-party tickets for 6.60€ (plus fees) at www.amphi-shop.de (worldwide shipping). All tickets are also available at all nationwide CTS/EVENTIM box-offices, online at www.eventim.de, www.oeticket.com, www.ticketcorner.ch and as PRINT@HOME edition.
Facebook Event Amphi Festival 2020: https://www.facebook.com/events/2188754121246870
Facebook Event Call the Ship to Port: https://www.facebook.com/events/504100277028362
Facebook Event Official Pre-Party: https://www.facebook.com/events/371146640218625
Playlists: SPOTIFY at https://open.spotify.com/playlist/4cS0rt5eahCGNInMW67UYW?si=cY1Paa8iQqin-sp83mSnjg