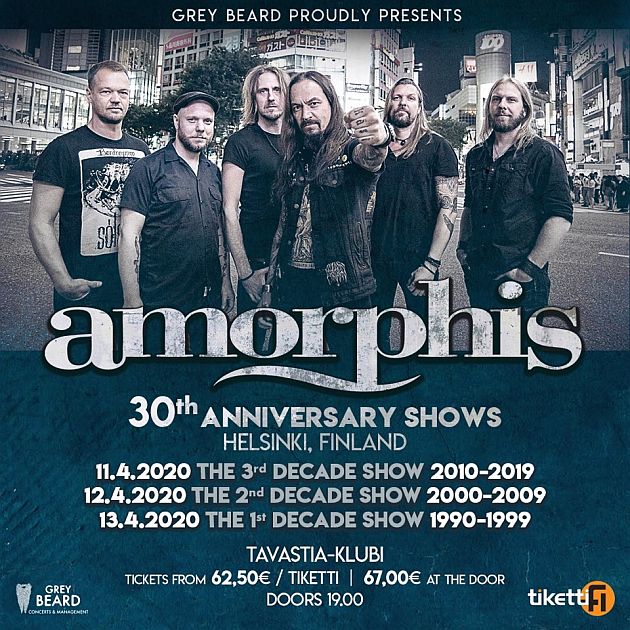 Tavastia, Helsinki, Finland
14th, 15th, 16th October 2020
Amorphis - "30th Anniversary" Shows

Attention: due to the Corona crises, these concerts were rescheduled from April 2020 to July 2020 and will take place now in October 2020!
The year 2020 started with a roll of thunder from Scandinavia! Black Metal band DIMMU BORGIR from Norway and Melodic Metallers AMORPHIS from Finland were on tour in headliner tour in January and February.
AMORPHIS, a band which has rightfully played and toured over the years to become one of Finland's most popular Metal bands, is celebrating their 30-year career in 2020. To celebrate it properly, the band will be getting on the stage at Tavastia club for three consecutive Easter nights to perform three special shows from three decades.
The first night will feature songs from the latest decade 2010 and 2019 (e.g. music from albums 'Circle' and 'Queen of Time'), the second night AMORPHIS will perform songs from albums released between years 2000 and 2009 (e.g. 'Eclipse', 'Skyforger', 'Silent Waters') and the third night will take the audience back to band's early years from 1990 to 1999 (e.g. songs from 'Tales From The Thousand Lakes' and "Elegy'):
Wed 14th Oct 2020 The 3rd Decade -show, 2010-2019
Thur 15th Oct 2020 The 2nd Decade -show, 2000-2009
Fri 16th Oct 2020 The 1st Decade -show, 1990-1999
Additional Concert Info

Doors: 19:00
Start: 20:00
Age limit: 18
Tickets: prices start at 62.50 € (door 67 €, if any left) via https://www.tiketti.fi/tapahtumat#i=67701,67702,67703&h=1
Info: http://www.tavastiaklubi.fi/en_GB/tavastia/event/2020-04-11-amorphis / http://www.amorphis.net
More on
Amorphis