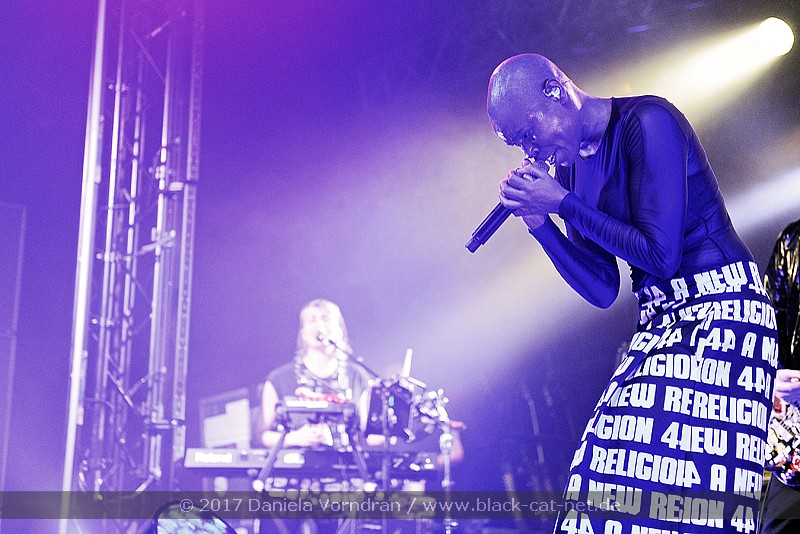 SKUNK ANANSIE celebrate their first 25 years with an amazing album. With "25Live@25", the British icons bring their well-known and extraordinarily strong stage presence into the shape of an album. It's hard to imagine from today's point of view, how it was in those days, when a bald, black female singer became front woman of an uncompromising Rock band. It was a real irritation, almost a scandal at the beginning of their career, and even the Tagesschau told about it. Founded in 1994, the band broke through the scheme of white men with guitars in the middle of their twenties. Regarding gender, sexuality, cultural and musical influences, SKUNK ANANSIE embodied an own, strong individuality and diversity.
Being free from any styles and comrades, the band created an own, wild, rough, and political sound, for which singer Skin once created the term Clit Rock: "As a black singer, it was difficult in so many ways to get accepted, and then we made on stage exactly what I dreamt of. That was when I really felt accepted for the first time." Guitarist Ace adds: "In the 90s, London was an unbelievable hodgepodge of people, but on stage, there always stood four guys with the same haircut. We instead were real, and that's why we were radical." That those times and attitudes have changed fundamentally - at least for most of the people - is also partially credited to SKUNK ANANSIE.
During the 25 years of their career, SKUNK ANANSIE sold millions of records, celebrated several Top 40 hit singles and Top 10 albums, got quite a number of awards and multi-platinum prizes, shared the stage with DAVID BOWIE and U2, and sung the song "Happy Birthday" for Nelson Mandela together with STEVIE WONDER, NINA SIMONE, and MICHAEL JACKSON. After 25 years, the quartet is strong as ever, as well as an extraordinary band. Each show is a party of dissidence. The fight has not stopped today, and so SKUNK ANANSIE never stopped fighting. That's why the Brits go on tour and come to Germany with a best of set and the old power.
German Tour Dates

Nov 3, 2020 – Hamburg, Sporthalle
Nov 4, 2020 – Wiesbaden, Schlachthof
Nov 17, 2020 – Munich, Tonhalle
Nov 25, 2020 – Berlin, Columbiahalle
Nov 26, 2020 – Cologne, Palladium
Ticket sale starts on Wednesday, Feb 19, 2020 at 10:00 a.m. exclusively via
eventim.de
. General ticket sale starts on Friday, Feb 21, 2020 at 10:00 a.m. with a ticket price each for EUR 35.00 plus fees, tickets available at all known ticket shops, by phone at +49 (0) 1806 - 853653 (20 cents/call, mobile max. 60 cents/call), or via fkpscorpio.com and eventim.de.
More on
Skunk Anansie