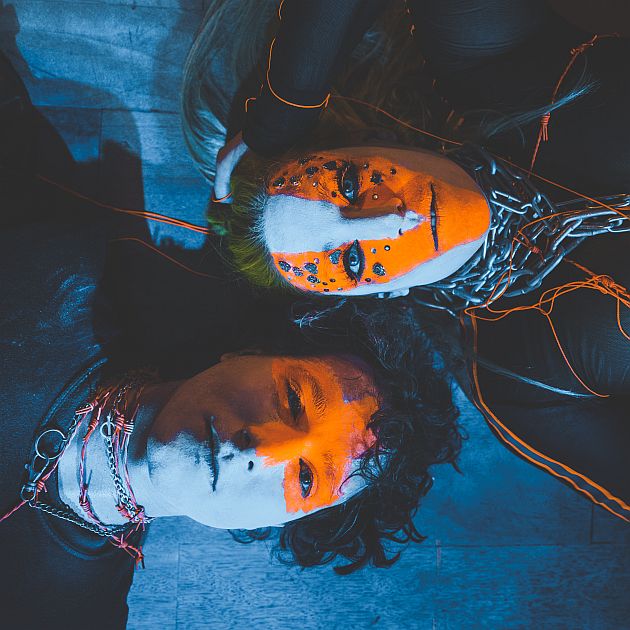 Due to the current Corona situation, this tour is completely cancelled.
VUKOVI are coming to Germany for three concerts in May 2020! As the writer Samuel Beckett has already put it: "Try again / fail again / fail better". The title of the new and second VUKOVI record also refers to this. 'Fall Better' is a loud scream from the Scots. Guitarist Hamish Reilly and singer Janine Shilstone use cracking walls of sound with loud guitars and electronic experiments together with dance beats to call the world: It's okay to be different to have mental health problems. To look different. Lashing out. Fall over and continue.
VUKOVI is Serbian and means wolves. Somewhere between Pop Punk and serious Metal, the melodic riffs and sharp voice tear the world apart. Shilstone sometimes sneaks up and hums and then strikes. Then the songs are crashing around your ears! In fact, for the emotional singer, music is a way to get rid of her demons. Talking about something first, she once said, creates the framework for changing it. When it comes to such powerful music, such intense and mature songs, it was doubly worth it. Visitors to the COUNTERFEIT concerts can also confirm this. They already know the tremendous energy of the Scots, because they had the band with them as support. Now VUKOVI are coming to us on a headlining tour after a sold out UK tour.
Reflections Of Darkness proudly presents:

14 May 2020 – Cologne, Blue Shell
15 May 2020 – Berlin, Maze
19 May 2020 – Munich, folks! Club
Tickets are available from Friday, 21st February 2020, 11:00 CET for 14 euros plus charges (pre-sale) on all known pre-sale offices as well as via hotline +49 (0) 1806 - 853653 (0.20 €/call land-line, mobile max. 0.60 €/call), via fkpscorpio.com and via
Eventim
.
More info and music via vukovi.co.uk / facebook.com/vukoviband / twitter.com/Vukoviband / instagram.com/vukoviband and youtube.com/VukoviVEVO
Picture: FKP Scorpio