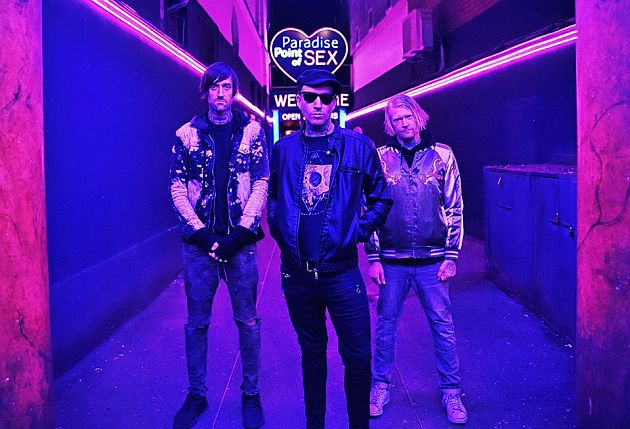 Musikzentrum, Hanover, Germany
30th April 2021
Aesthetic Perfection - Into the Black Tour 2020 - Support: Beyond Border

Attention: due to the Corona crises, this concert is rescheduled from April 2020 to April 2021!
No rest for the wicked - AESTHETIC PERFECTION are touring the venues Europe's and Northern America's - winter 2020 supporting LINDEMANN together with JADU on an extended European tour that is characterized by a large number of sold-out gigs. Almost every day-off on the LINDEMANN tour is turned into a headliner show for themselves.
Right afterwards mastermind Daniel Graves, Joe Letz and Elliott Berlin are switching the continent to spend a month on tour in Northern America with LORDS OF ACID on the "Make Acid Great Again Tour". Time for some vacation after this? Not at all! The first headline shows after this have been just confirmed - one of them will be the show at Musikzentrum Hanover on 30th April 2020. The hard work pays off with packed venues and enthusiastic fans following their favourite artists around.
With the latest release of 'Into The Black' Daniel Graves proved the importance and creativity that AESTHETIC PERFECTION enriches the scene with and established Industrial Pop further. Bringing Elliott and Joe with him on stage, AESTHETIC PERFECTION became an explosive combination to experience life. 'Into The Black' is filled with sparkling darkness, catchy, melodic and energetic songs - from purely synth dominated to whirring guitars - the variety is immense, always with the hint of the pure, unmistakable AESTHETIC PERFECTION sound.
AESTHETIC PERFECTION will be supported on that evening by BEYOND BORDER from Hildesheim/ Salzgitter, performing the whole bandwidth of Electronic music. Afterwards after-show party at Musikzentrum with Daniel Graves (AESTHETIC PERFECTION), Marcus Meyn (CAMOUFLAGE) and DJ Jeanny.
Additional Concert Info

Doors: 19:00
Start: 20:00
Tickets: are available from 29.50 € (+ charges, additional shipping) via
Eventim
Info: https://www.facebook.com/events/634184553793817/
Artist: http://aesthetic-perfection.net / https://www.facebook.com/aestheticperfection
More on
Aesthetic Perfection