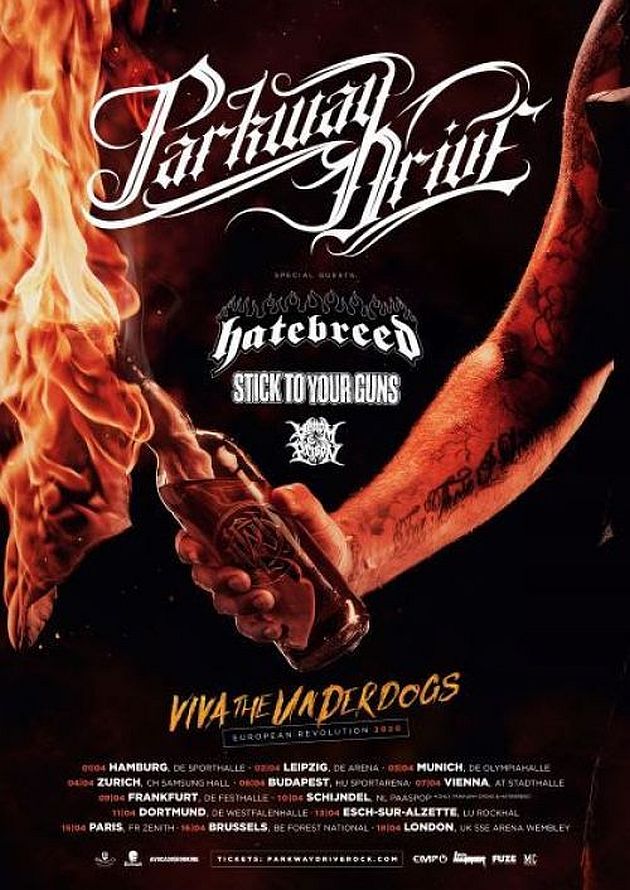 Festhalle, Frankfurt, Germany
5th April 2021
Parkway Drive - "Viva the Underdogs" European Revolution 2021 - Special Guests: Hatebreed, Stick To Your Guns & Venom Prison

Attention: due to the Corona crises, this concert is rescheduled from April 2020 to November 2020 and further to April 2021! Tickets remain valid!
Fire, explosions and many special effects. That is what I am thinking about when I hear PARKWAY DRIVE. Live, they are just awesome not only because of their special effects! PARKWAY DRIVE is Australian for Metalcore as its best. Winston McCall (vocals), Luke Kilpatrick (guitar), Jeff Ling (guitar), Jia O'Connor (bass) and Ben Gordon (drums) are the members of the band that was founded 2003 in Australia.
In 2018, they released their latest album 'Reverence' and now they start their "Viva the Underdogs" European Revolution 2020. As you can imagine they are no Underdogs anymore. I am really looking forward to see their show in Frankfurt at the Festhalle. And you have to be there quite early due to three Special Guests - HATEBREED, STICK TO YOUR GUNS & VENOM PRISON. I hope to see you there I guess it could be a stunning evening!
Additional Concert Info

Doors: 17:00
Start: 18:30
Tickets: are available for 66.95 euros plus charge (pre-sale) via
Eventim
Info: https://festhalle.messefrankfurt.com/frankfurt/de/veranstaltungen/parkway.html
More on
Parkway Drive
,
Hatebreed
,
Stick To Your Guns
&
Venom Prison