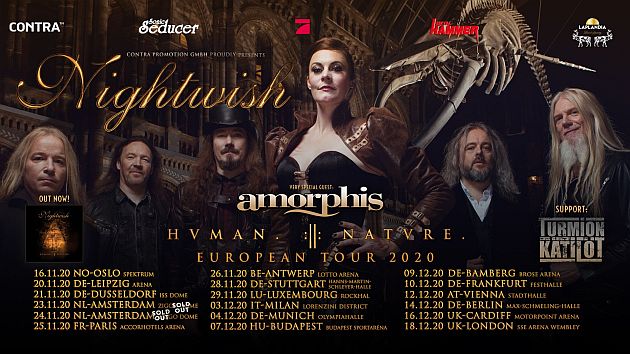 Olympiahalle, Munich, Germany
5th December 2022
Nightwish, Beast in Black, Turmion Kätilöt

Attention: due to the Corona pandemic, the concert is postponed from December 2020 to May 2021 and further to December 2021 and now to December 2022. Tickets remain valid!
The year 2020 started with a roll of thunder from Scandinavia! AMORPHIS from Finland were on tour in January and February and will be back on stage in December, supporting NIGHTWISH. After their very successful 'Decades' tour in 2018, NIGHTWISH continued work in the studio and recently announced their new record 'HUMAN. :II: NATURE.'. The album will be released on 10th April 2020 and is a double album. One CD contains nine tracks and the second CD contains one long track divided into eight chapters.
BEAST IN BLACK will replace originally planned special guest AMORPHIS. TURMION KÄTIOLÖT from Finland will join NIGHTWISH and AMORPHIS on the road and you can be sure, they will play some tracks from their latest release 'Global Warning' (out April 17th 2020).
Additional Concert Info

Start: 19:00
Tickets: are available from at 60.95 € (+ charges/shipping) via
Eventim
Info: https://www.promoters-group-munich.de/artist/nightwish/6586
Bands: https://nightwish.com / http://www.amorphis.net / https://www.turmionkatilot.com
More on
Nightwish
,
Amorphis
,
Turmion Kätilöt