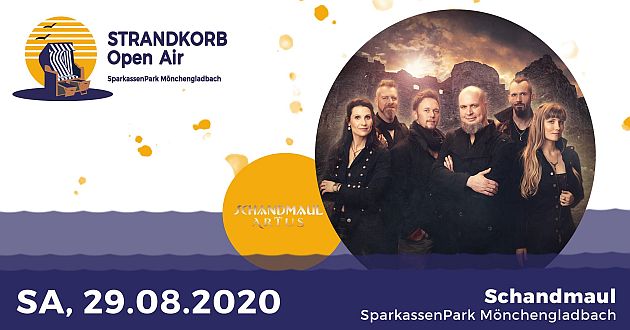 Sparkassenpark, Mönchengladbach, Germany
29th August 2020
Schandmaul - Beach Chair Concert

More than 20 years after the foundation, 10 studio albums and several concerts and festivals, the Bavarian musicians SCHANDMAUL will play on the August 29th in front of the beach baskets in Mönchengladbach. The classical instruments of Rock music electric guitar, acoustic guitar, drums and bass guitar are also accompanied by instruments from the Middle Ages (shawm, rotary lyre, flute, pipe, bagpipes, cistern and lute). Today, the music remains modern Rock. Experience good German rock music in an unusual environment.
From each ticket 1€ will be donated to "Corinna e.V." Mönchengladbach. Here you find more information: https://corinna-mg.de/
Additional concert info

Doors: 19:00
Start: 20:00
Tickets are available from 50.80 euros via
Eventim
Facebook Event: https://www.facebook.com/events/663685790883731/
FAQ: https://sparkassenpark.de/faq-strandkorb/
Special Info: When parking, please note the additional information on your ticket and the guidance systems.
More on
Schandmaul