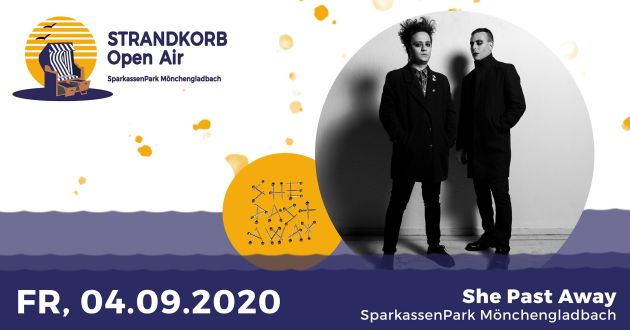 Sparkassenpark, Mönchengladbach, Germany
4th September 2020
She Past Away - Beach Chair Concert

This concert will be postponed to 2021 due to visa problems. Tickets remain valid!
Founded in Turkey in 2006, the band now consists of the band members Volkan Caner and Doruk Öztürkcan. For SHE PAST AWAY it quickly became clear that their songs would be performed in their mother tongue Turkish. They experiment with old and new "synth music" aesthetics that they incorporate into their guitar core sound. In this way, SHE PAST AWAY has created a new sound, an attitude and a sensibility, which is complemented by a minimalist sung poetry in Turkish and which puts the listener on an atmospheric continuously ongoing, epic trip - both through her albums and through her live performance. With guitar, synthesizer, drum computer and the quiet dark vocals of Volkan Caner, they remind you of some well-known bands, but the music of SHE PAST AWAY is still independent and interesting.
From each ticket 1€ will be donated to "Corinna e.V." Mönchengladbach. Here you find more information: https://corinna-mg.de/
Additional concert info

Doors: 19:00
Start: 20:00
Tickets are available from 44.90 euros via
Eventim
Facebook Event: https://www.facebook.com/events/559169904988437/
FAQ: https://sparkassenpark.de/faq-strandkorb/
Special Info: When parking, please note the additional information on your ticket and the guidance systems.