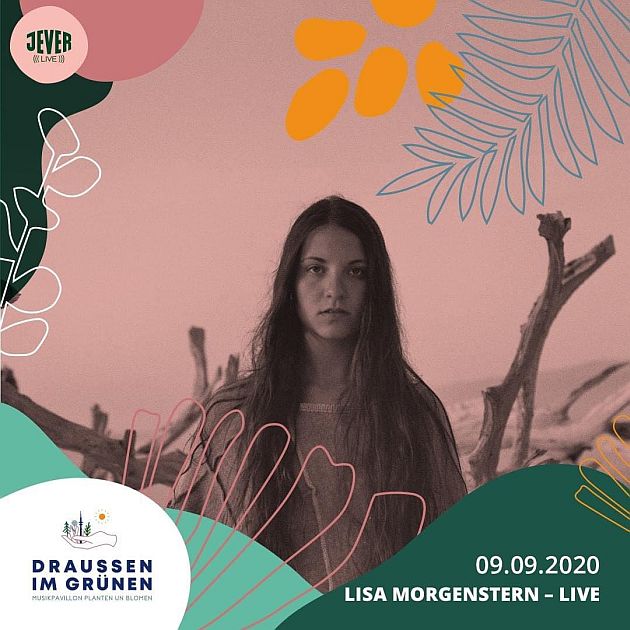 Musikpavillon Freilichtbühne, Hamburg, Germany
9th September 2020
Lisa Morgenstern - "Planten un Blomen"

I guess almost everybody who went to a job interview has been asked: "Where do you see yourself in five years?" I always found this question rather dull. The last time I have seen LISA MORGENSTERN playing live in Hamburg is not even that long ago. She played a marvellous set at the posh Elbphilharmonie roundabout one year ago on September 20th, 2019. If somebody would have told us that only three months later a global pandemic would break out and the whole concert industry would come to a halt - who would have believed them?
Artists, promoters and crews are facing hard times these days. However, concerts still happen even under difficult conditions. Thus I am more than happy that an amazing artist like LISA MORGENSTERN is not only going to play an outdoor concert but also play in one of Hamburg's most beautiful parks.
If you haven't heard her name or music before here is a brief insight to her career so far: LISA MORGENSTERN is a pianist, singer and composer of German/ Bulgarian heritage. She can also be found singing in Berlin's leading Bulgarian Women's Choir and was exposed to music from a very young age. Her parents are musicians and found her daughter displaying a natural affinity and talent towards the piano. In her teenage years she was trained as professional ballet dancer. In 2013, she released her debut album "Amphibian", whose atmospheric production and gloomy subject matter earned plaudits for its dark romanticism. She has since established a reputation for her intensely emotional performance style. In 2019 she has released the album 'Chameleon' which finds her taking dramatic strides to expand her range, matching her far-sighted approach to both synths and piano with her background in classical music.
LISA MORGENSTERN has played at many different concerts and festivals. Starting from Alternative / Gothic events to Iceland Airwaves at the National Theater in Reykjavik and Reeperbahn Festival at the Elbphilharmonie in Hamburg. Her collaborations with the choir Bulgarian Voices Berlin and lately with the Munich Radio Orchestra were particularly impressive and remarkable. If you are interested in her latest work make sure to check out a glimpse of it on her web page: 'Journey to the End of the Night' - impressive, gloomy, dreamy, beautiful.
Additional Concert Info

Doors: 18:00
Start: 20:00
Tickets: are available for 29.60 euros
Info & tickets: http://draussenimgruenen.de/lisa-morgenstern-09-09/
Artist: http://www.lisa-morgenstern.com/