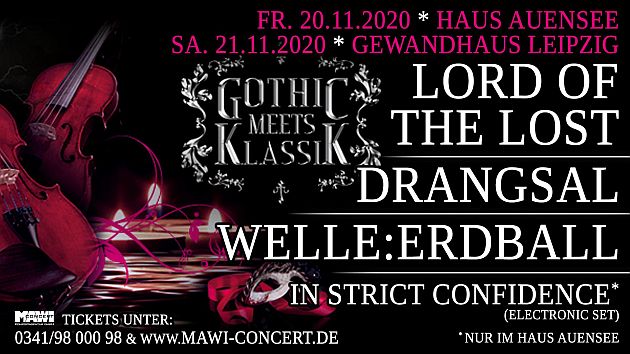 Haus Auensee & Gewandhaus, Leipzig Germany
20th & 21st November 2020
Gothic Meets Classic 2020 with Lord of the Lost, Welle:Erdball, Drangsal and In Strict Confidence

Due to the Corona pandemic, the festival is postpponed to November 2021. Tickets remain valid.
The Gothic Meets Klassik Festival will take place in two locations on 20th of November in Haus Auensee and on 21st in Gewandhaus in Leipzig. Having in mind the fact the concerts in this season are scarce, it is definitely the news many people have been waiting for impatiently. Both locations were approved for hygienic and sanitary reasons to organize the events hence the concerts may take place in 2020. The bands who confirmed their participation are LORD OF THE LOST, WELLE:ERDBALL, DRANGSAL and IN STRICT CONFIDENCE - latter will present their electronic set (on Friday only). On Saturday the bands will present the selection of songs arranged with Philharmonic in Leipzig which will definitely allow to see their music from quite a different perspective.
LORD OF THE LOST is a group from Hamburg, it was founded in 2007 as a solo project of singer and guitarist Chris Harms. Soon, the musician got involved with his friends and performed live. LORD OF THE LOST has earned the reputation of one of the best concert bands in Germany. It was due to a raw mix of dark rock, industrial metal and wild gigs. In one of the interviews, Chris Harms admitted that he draws inspiration from artists such as RAMMSTEIN, MARILYN MANSON, NINE INCH NAILS, and LADY GAGA. The band has released seven studio albums. The last one, entitled 'Swan Songs III', went on sale on August 7, 2020.
WELLE:ERDBALL is a German group founded in the early 1990s that performed electronic music; they are said to be precursors of "Bitpop". Their music is usually characterized by a fast rhythm, simple progressions, and catchy melodies. The band's songs often refer to the work of KRAFTWERK. A characteristic feature of WELLE:ERBALL sounds is the use of the Commodore 64 computer as a musical instrument and speech synthesizer. The group is also a member of the C-64 demo scene, where it publishes music collections and games. DRANGSAL is a German singer, songwriter and multi-instrumentalist. His music shows influences from different genres, including New Wave, Post-Punk and Indie Pop while IN STRICT CONFIDENCE will surely impress the audience with their pure electronic set on Friday.
GOTHIC MEETS KLASSIK 2020

20.11.2020 - Haus Auensee
21.11.2020 - Gewandhaus zu Leipzig
Additional Concert Info

Doors: 18:00
Start: 19:30
Tickets: are available from 39.90 euros via
https://www.mawi-concert.de/index.php?menus_id=2&solo=1&id=24669
Artist: https://www.welle-erdball.info / https://www.drangs.al / http://www.lordofthelost.de / https://www.instrictconfidence.com
Info: https://www.facebook.com/events/511373312809639 / https://www.facebook.com/events/1460935924063681